I'm astonished to see Coalition to Stop Gun Violence, formerly the National Coalition to Ban Handguns, trying to help ATF and the Administration find political cover over the Fast and Furious scandal. Again, I remain very skeptical that this organization cares a whit about stopping gun violence, or they'd be just as outraged at this practice as we are: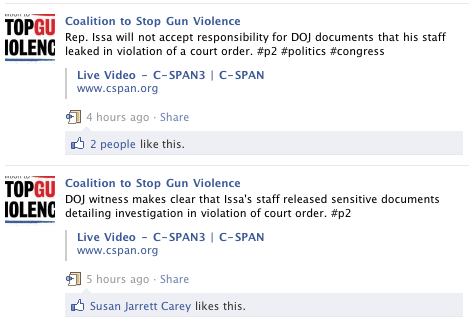 Understand what was going on here. There were multiple dealers along the border who did not want to make sales to people those dealers knew to be trafficking in guns illegally, but yet were told to allow those sales to proceed by the ATF. One or more of those guns was used in the murder of a Border Patrol Agent, and countless numbers are no doubt murdering people in Mexico. CSGV's attempts to focus this issue back on Issa, off ATF, and onto our gun laws is not only dishonest, it's disgusting for a group that properties to care about stopping gun violence.
This kind of attitude clearly shows that Coalition to Stop Gun Violence is an utter fraud. If they really cared about gun violence they'd certainly want to get to the bottom of what is, to give ATF/DOJ leadership more benefit of doubt than they probably deserve, employment of highly questionable law enforcement tactics that have lead to the death of individuals.
CSGV would do well to understand we have a right to own guns in this country. That necessarily takes a lot of their preferred policy prescriptions off the table. That's a hard pill for them to swallow but it is a fact. If they truly want to be about preventing gun violence, they would be helping to understand what truly happened. But as it is, they are still living in the past, and perpetrating the fraud that they care about gun violence, rather than gun control.