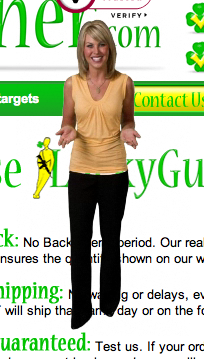 I'll join Bitter here in saying I didn't have any particular problem with the Lucky Gunner ammo waitresses, speaking as someone who went to fetch his own ammo that weekend. Understand that for most people at the shoot, Lucky Gunner was selling ammo. In order to sell more ammo, you have to keep shooters at the line ripping away at the various targets down range. The ammo waitresses were a way to keep people at the line shooting. That they happened to be good looking women I don't think reflected badly on Lucky Gunner or the shooting sports. None of them were dressed inappropriately. There's a world of difference between this, and this, and if LG had decided on the latter, I would have been quick to criticize them.
There's been some criticism of Heidi as well, which I really don't understand, since when I clicked on her, she is entirely appropriately dressed, is informative, and does not make me think that Lucky Gunner is explicitly using sex to market their product to men. Subtly yes, but that's because it works. Most sales people that call IT managers these days are women. For pharmaceutical sales, which are mostly to male physicians, it's generally a prerequisite to be highly knowledgeable about the business, the products, and also to be smoking hot. It's not like Big Pharma will send them in dressed like they just got out of their night job at Hooters; they'll be in business attire, but they will get the job done in ways a man marketing to other men can't.
I do have issues with turning the shooting sports into a boys club, but I would note the ammo waitresses were just as thrilled with being able to shoot all the toys on the range just as much as the guys were, and they were free to when they weren't schlepping ammo. Â If they had dressed them like they were sunbathing at the beach, or like Sniper Babes, I would agree it was inappropriate. But I don't think LG crossed the line in terms of their marketing, at least not any more than many casual dining establishments, or other industries that market primarily to a male audience.