It's been an interesting 24 hours in the Pittsburgh food world, that's for sure. For several hours, Primanti's refused to respond to customer questions about their staff who showed off their MAIG t-shirts calling for increased federal gun control at a MAIG tour event. Then the media found out and started nagging them. Since, you know, embracing gun control just a few short months before the NRA convention is coming to town seems like a really bad business plan if you want to actually see any economic benefit from said convention. In general, being in the Pittsburgh area with lots of gun owners, being anti-gun probably isn't the world's greatest business model.
Then, suddenly, Primanti Brothers pops up in the comments and starts registering at online forums to respond with a statement simply passing it off as an employee wearing a shirt of a visiting guest. Yeah, but that raises the question about why a business allows such a behavior if they don't want to be dragged into this kind of stuff. (Their excuse on NRA News was that they are a small business & don't micromanage. BS. You have nearly two dozen stores across two states, you're not a minor business. Under Mayor Bloomberg's food policies, they are a big enough chain to require menu labeling.)
In their NRA News interview, they said several things that I found to be a bit odd or, at the very least, unprofessional. First, they preemptively brought up that they do have a policy of asking open carry folks to cover up their guns if some other customer doesn't like it. Now, why would want to invite that storm on yourself? While you've been telling people all day that you allow all kinds of carry, now your spokesmen has just voluntarily admitted that they'll ask the legal gun toter to get it out of sight (he didn't elaborate on what they do if the OC'er refuses) when he was asked a simple question of whether or not they allow carry at all. (Put the shovel away, folks. You've dug your hole plenty deep.)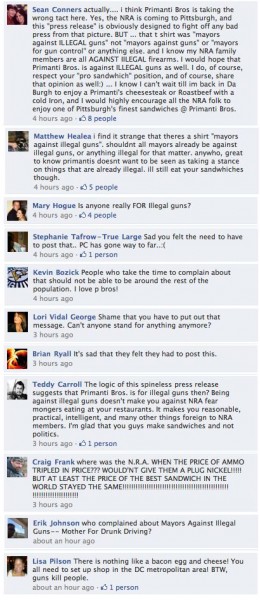 The other thing they have done is remove pro-gun comments from their Facebook page & release comments. NRA convention attendees I've spoken with privately & seen discussing it elsewhere have also reported that they are then banned from commenting or liking anything on the page again. Yet, take a look at what anti-gun & anti-NRA comments are allowed to remain. (Click the image to enlarge.)
I first wondered if the pro-gun commenters were crossing the lines of civility. But surely then, that the anti-gun comment saying that NRA members are unreasonable, unintelligent, and impractical would also qualify as uncivil? Or if it's politics about the issue they want to keep away from their Facebook page, then surely the statement that guns only kill people would also qualify for removal? You know, the many posts about what a shame it is that Primanti Bros can't stand for gun control without being called out it by NRA members seem awfully numerous and odd to remain if they just want the issue to go away.
Finally, the spokesman said something else on NRA News that rubbed me the wrong way. He said that Primanti Brothers isn't pro-gun. He used that specific wording. He didn't say, "We don't have a specific policy on gun control politics or legislation." He said they aren't pro-gun. He also added that they weren't anti-gun. But would he honestly tell the ACLU in an interview that Primanti Bros isn't pro-speech? Or pro-right to practice a religion? Or perhaps the newspaper covering their next big news that they aren't pro-freedom of the press? The right to bear arms is a protected & fundamental right. It's one thing to not want to weigh in on specific battles, but it seems awfully odd of him to say they are not pro-Bill of Rights. I'd hate to have been a woman around there when they opened in the 1930s. Perhaps it was too soon after suffrage to be safely pro-suffragette. Again, what an odd thing to say if your company really just wants the issue to go away.
The original question of their view on our rights still stands to some degree. They don't seem to be out leading a campaign to ban guns alongside Michael Bloomberg. But, they do appear to be trying to silence their gun owning customers who try to leave any form of public commentary while leaving up numerous attacks on NRA & gun rights. I was not calling for an organized boycott, but just noting that for those who do care about where they spend their money, it might be a legitimate concern. I don't think that concern has been completely alleviated for some people.
In the NRA News interview, Cam did ask permission to come out to the same location with NRA shirts in tow for the staff. They did agree, so that's worth something.