When all through the house, not a creature was stirring, not even a mouse – because creatures that go bump in the night know we're well armed in the Snowflake household.
Christmas presents have started to arrive here at the house, and now it's time for me to really get crackin' with decorations so I can start wrapping them. However, one is still in production and won't be here until a few days before the holiday. When it is finally wrapped, I'll have to punch holes in the box and wrapping paper. Is it a cat? Lord, no. I'm not bringing any of those demons home. Is it a dog? If so, it would have my name on it and this gift is solely Sebastian's baby. Nope, it's not an animal at all. It's a holster. The holes are so I can smell it from time to time because I know the leather will smell that good.*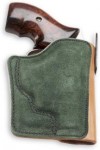 We got a preview a week or so ago after I placed the order for a Mitch Rosen holster and they sent a catalog. OMG, I have never wished for a scratch and sniff catalog before, but oh how I wanted one for his holsters and belts. I don't even care that we wouldn't have a need for many of his products, I wanted to order one of everything the second I opened it up. If we don't have a gun that would fit some of his designs, we could buy one later. In fact, that's what we'll be doing with this piece. We don't actually own the gun yet. But, I know that Sebastian will order one sometime soon, and then he'll have a nice new custom holster for it.
Mitch's work is incredible, and I can't wait to see what arrives shortly before Christmas.
*If I wasn't trying so hard to stay off of Santa's naughty list, I would wrap the holster in the girliest wrapping paper we own and slap my own name on it – at least until Sebastian gets the gun.