By now everyone has seen MAIG's latest study that I said seemed to jump to conclusions. Not wanting the other side to have a monopoly on drawing conclusion based on data, I've been looking more closely at the data in my <sarcasm>copious free time</sarcasm>, and compiling this post. I am by no means a statistical expert, and I hope that someone like Power of Epsilon Blog can look this over and tell me if it looks reasonable. A large percentage of the MAIG study seems to hinge on 2009 Interstate Export Ranking, which is based on traces per capita, in this case the number of guns traced back to a state per 100,000 people in that state. The first thing I decided to do is use the Brady score as a proxy for how many MAIG-approved gun control laws a state has passed. Since MAIG and Brady have the same agenda, this would seem reasonable. There is a slight correlation, but it's not remarkably strong: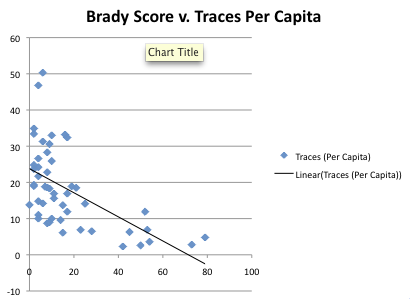 These look inversely correlated, which would would no doubt please the Brady folks, but the set has a correlation of -0.56, which for a sample size of 50, isn't all that remarkably strong. So I set out to find out which data the trace per 100,000 data does correlate strongly with, to see if we can find an explanation.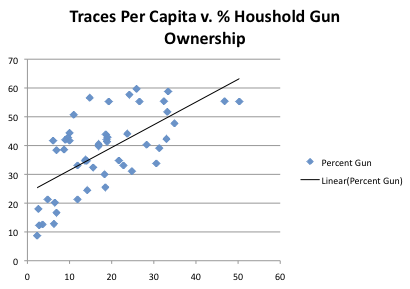 Here we have traces per 100,000 persons on the X-axis, compared to household gun ownership on the Y-axis. Now that's a better correlation, with an Pearson r value of 0.65, which is strong. This makes sense. States with a higher household gun ownership have more guns to later be traced by ATF. MAIG's statistic could be just as easily explained by the fact that states with high rates of gun ownership have more guns stolen than states with low rates of gun ownership, and that states with low rates of gun ownership necessarily have fewer legal channels for purchasing guns. States with fewer gun owners have fewer legal sources for guns to be traced back to. It's hardly surprising this correlates more strongly than law.
But to me, this isn't where the rubber truly meets the road. Any promotion of gun control s public policy ultimately has to face off with Joe's question. It's here that MAIG's research falls apart.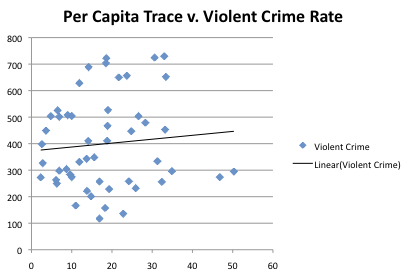 Despite the very slight upward trend line, the correlation here is 0.09, which for a sample size of fifty is essentially uncorrelated. Even if you were to assume that the states which are exporting guns are exporting violence, this doesn't seem to be the case, since that would result in a negative correlation. If you were to assume that states with high rates of gun ownership, and thus high traces, were more violent, you would also be wrong. In fact, here's the graph of the correlation between household gun ownership percentages and violent crime: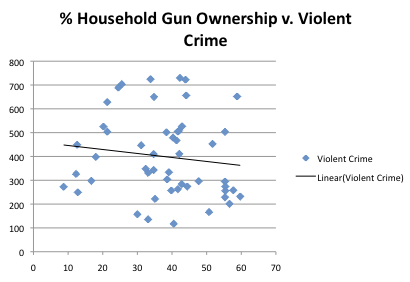 The general trend line is slightly dropping as gun ownership increases along the x-axis, but the correlation here is -0.13 which for a sample size this small is essentially uncorrelated. Note that I'm counting violent crime as a whole, not just "gun violence" and not "gun deaths" (counting suicides) as our opponents like to do. It does most people little comfort if they are stabbed to death, as opposed to being shot. Getting your head bashed by a baseball bat is likewise unpleasant. Overall rates of violent crime are all the really matter.
Interestingly enough, one of the strongest correlations I came across was the correlation to Brady Score and levels of household gun ownership in that state, which had a Pearson's r value of -0.73, meaning the higher the Brady score goes, the lower household gun ownership becomes, and that the Brady Score is a reasonable predictor of levels of gun ownership in a given state. But the Bradys can't argue their score is a predictor for violent crime, as the correlation between Brady Score and violent crime in a given state is 0.02, which is uncorrelated.
A possible conclusion that could be drawn is that all the Brady agenda accomplishes is driving down overall levels of gun ownership, while having no discernible effect on violent crime. This would lend support to the theory that gun control only disarms the law abiding. One wonders how anyone can support an agenda that does not accomplish its claimed goal, but I would argue that driving down overall levels of gun ownership is exactly what our opponents mean to accomplish. Gun control has never been about combating crime, but about combating gun ownership itself. This article from the Untied Kingdom is no better example of this. In this sense, gun control has been a rousing success where it's been tried, it's just a shame it does nothing to lower violent crime.