I had my dad over for some pulled pork BBQ.  Got up at 7AM to get it started, and spent all day maintaining the fire at the right temperature for BBQ, around 225 – 250 degrees.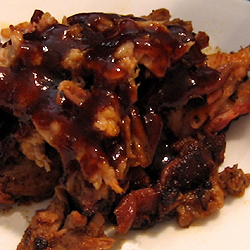 Turns out 7AM wasn't quite early enough.  I ended up pulling it off the smoker at 4:30PM, when the Butt was about 180 degrees F.  It was a bit hard to pull, which I attribute to the temperature of the meat not getting high enough.  The other mistake I made was not taking notes when I made the BBQ sauce.  It was pretty good, but I don't know if I could make it again.  I know what I put in it, but just kind of did everything to taste.  The base was ketchup, molasses, Jamaican Rum, brown sugar, and cider vinegar.  Other spices were chili powder, cumin, some garlic and onion powder, a little paprika, and some other things I don't remember.
Now that I've gotten better at controlling temperature (a real grill thermometer that reads actual temperature goes a long way), I'm thinking of trying ribs again.  The good thing about BBQing is that even when you make minor mistakes, the food is still pretty tasty.