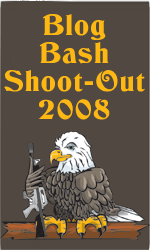 This is your last chance to vote in the contest between Joe Huffman and Caleb at Blackwater. The odds have gone from 100% in Joe's favor at the beginning, hovering between 75% and 85% most of the time, now dropping to 70% as we approach the last day.
As soon as I see a post about the results, I'll remove the poll.
UPDATE: The poll is now closed. Joe Huffman beat Caleb both in the poll and on the range.