May 6, 2008
This could be an explanation for the shrill sound of desperation we've been noticing from the anti-gun camp lately: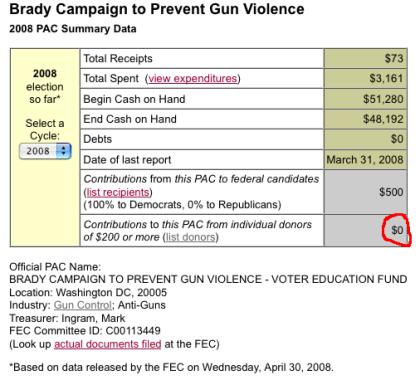 They haven't been raising any money for their Political Action Committee.  This is speculation, but my guess is they've been having to eschew fundraising for the PAC in order to keep their 501(c)(4) and (c)(3) activities afloat.  This is probably the most critical election for the gun issue for some time, and I would just imagine if they could be raising money, they would be.  Compare this to NRA's war chest: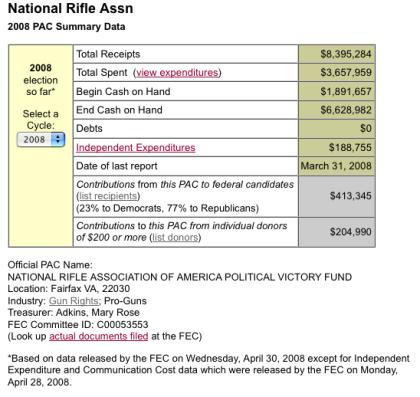 More importantly, if you go to opensecrets.org yourself, and look at NRA-PVF's top donors, you'll see professions like "Machine Operator", "Police Officer", "Computer Technician", "Engineer", "Mechanic", "Truck Driver", "Art Teacher".  Sure, you also have your attorneys, doctors, and businessmen, but think about how much $1000 dollars means to a truck driver?  Or an Art Teacher?   Meanwhile the Brady's have raised not just a little money, but nothing.  Think about that, and what it says about where the passion is on this issue.
UPDATE: Welcome Instapundit users!  Sorry for the little hickup there in the server.  Seems getting linked by Glenn on a big primary election night is a rough deal on the server, especially when your post has images.  After a bit of performance tuning, we appear to be back in business.  Still need a faster server, though.
25 Responses to "The Gun Control Warchest"