Once again, I've got the data on member participation in NRA elections. Unlike attendance, these stats aren't record breaking – not the lowest, not the highest. Just about average.
In terms of total votes cast, 5.67% of eligible voters who received ballots returned them. That's on par with previous years, as you can see in the chart. The lowest vote participation I've ever documented in 2006 was 5.12%, and the highest was the 2016 regular board election at 7.76%.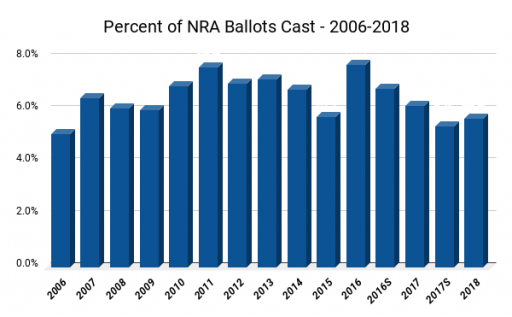 Of course, there's also the context to consider of how many ballots went out. As we add more voting members to NRA's member roster, it becomes harder for any one board member to reach individual voters who may feel inspired to vote after meeting with them or learning more about them. This is the record number of ballots mailed based on my data – 199,245 more than last year. That means more life members and members who have stuck with the organization for at least 5 consecutive years.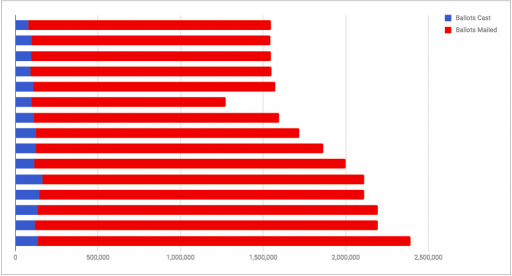 Of course, these charts just look at ballots returned. Of the ballots mailed back, 3.98% were invalid for a variety of reasons. This is up a bit from the last few years, but down substantially from 2013. Unfortunately, they stopped separating out my favorite invalid statistic – ballots from previous years. Who has these and remembers to send them in during the exact voting period the next year?? Last year, it was 24 people.
At first glance, I thought that people may be voting for fewer than 25 candidates, as the top vote getter this year (Ronnie Barrett) was only on 71.7% of valid ballots. That's the lowest percentage I've recorded. The previous low was 2015 at 76.52%, so the same cycle of candidates. Most of the other lows I've recorded have also been during this same cycle of 3 year terms, so I think it's just the lack of a really huge celebrity that spreads out votes more. (That's not a bad thing!)
For the "last winner," the lowest vote getter to still get a seat on the board, there were some interesting observations. The last winner was on just over half of the ballots – 54.46%. That's not the lowest percentage I've seen, but the 2nd lowest and definitely close. What is more interesting is that those who did not win seats were much farther behind the pack than I've ever documented before. In my years of data, the top person who still lost is usually just under 1,000 votes away from the person above. This year, that gap was huge at a difference of more than 3,000 votes. So those who didn't make it on the board this year were much farther behind as a group than they have been in at least a decade.