Ah, it's time for the annual peek at how NRA members are participating in their elections. And this year, the data gets a little more interesting. But just a little. It's still ridiculously easy for members to get their ballots in and actually influence elections. Let's get on with the pretty charts.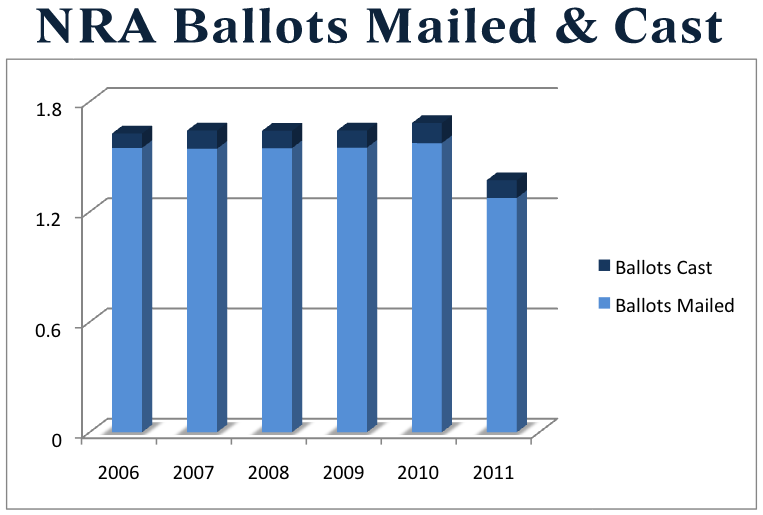 The y-axis should say that the numbers are in the millions, but after battling with Excel and Google which have both altered their charts just enough to make it a pain in the neck, I figured you fine folks were smart enough to figure that out.
So, why were fewer ballots mailed out? Is NRA shedding massive numbers of life members or 5+ year members? While I don't have direct access to data, I'm going to go ahead and rule that out. The fact that an even number of ballots went out indicates at least the beginnings of a membership list cleaning operation – putting real effort into finding out who is alive, who moved, etc. Every organization has to do it periodically, and timing to when you have to mail out ballots makes the most sense. One of NRA's biggest expenses is mailing out the magazines to nearly 4 million members, it gets more expensive when you add stuff to it like the ballots.
I make my assumption with some evidence to back it up. The number of ballots that came back was actually the third highest since I started keeping records, and the number of invalid ballots (those with mistakes) is on par with previous years as well. Those numbers did not see a proportional drop.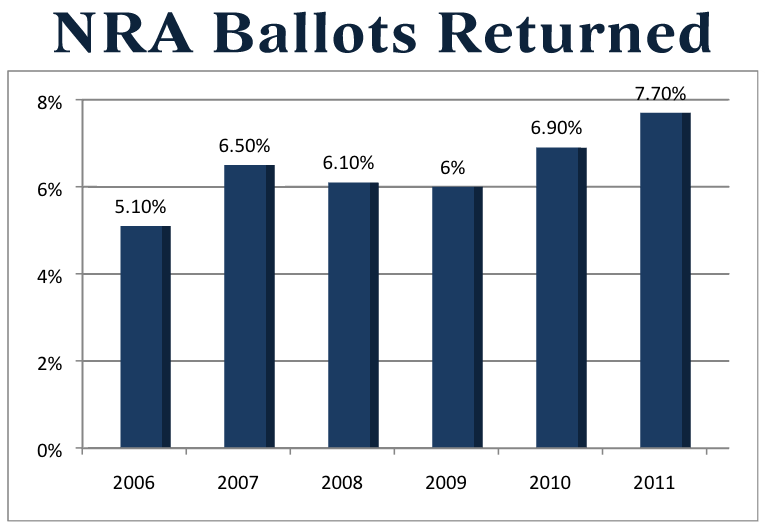 Because of the drop in number of mailed ballots, the participation rate went up. Since it's unlikely the dead people were voting, this makes sense. This isn't Chicago, after all.
When I emphasize that it's, in theory, ridiculously easy to influence the election, it's totally based on the fact that so few eligible members actually vote. If the majority of Snowflakes in Hell readers are voting-eligible members of NRA and every one voted, they alone could throw the participation rate up to 10% based on this year's numbers. In that spirit, if you do receive an NRA ballot and choose not to vote, I'd be curious as to why you don't vote in the association election.