An armed robber who had a shotgun and zip ties targeted a local pharmacy this morning. Fortunately, the owner takes security seriously and has a video surveillance system that allowed him to see the shotgun before the robber got into the store. The owner also had a gun that he pulled, and he fired at the surprised bad guy.
I think the best part of this encounter is that the owner quickly called the police who could catch the getaway driver who was still waiting outside since he figured his buddy would be a while – trying to clear out the entire pharmacy after at least taking the owner hostage, if not killing him. Easy arrest, and hopefully easy clean-up inside.
UPDATE: And our really, really local outlet reports that the van was stolen out of New Jersey.
UPDATE II: And now we have the folks coming out that says the shotgun-toting robber with zip ties was engaged in a non-violent offense and didn't deserve to be shot despite his willingness to shoot his victim. When I looked at the rest of the page, it didn't appear to be a parody account. He seems to really believe that the pharmacist defending his own life committed murder.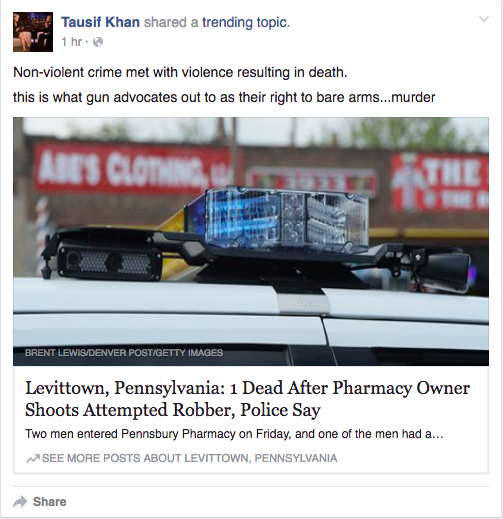 And for the record, my right to bare arms is my right to wear sleeveless shirts and dresses. My right to bear arms, however, protects my right to defend myself from armed robbers ready to kill over access to drugs.
UPDATE III: And this is why I voted for our DA:
District Attorney David Heckler wholeheartedly agreed.

"There is no thought that we would prosecute the shooter in this case. He was entirely justified in his conduct, and frankly should be commended," Heckler said.

"From what I can see, he performed a public service in taking out this fella," Heckler continued. "The fella asked for what he got and he got it."
UPDATE IV: And, it gets even better. The getaway driver admits he's a criminal on probation – driving a stolen car to an armed robbery. It will be curious to see how long his record is back in New Jersey, as well as that of the dead thief who has yet to be identified.