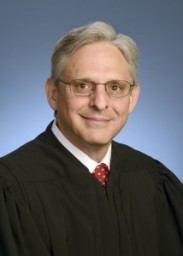 The campaign to pressure Republicans to confirm Merrick Garland seems to be fizzling. As Glenn Reynolds noted, "Because everyone knows the Dems would do the same thing if parties were reversed."
This whole business is depressing. If the Dems win the White House in 2016, we'll get worse, and that may be the end of a meaningful Second Amendment. I think we have two real votes for a meaningful Second Amendment on the court: Thomas and Alito. Scalia was the third, but he's gone now. I didn't think there was anything radical about the Alito and Thomas concurring opinion in the Stun Gun Case, yet it's interesting that neither Kennedy nor Roberts joined it. My perception, I hope I'm wrong but fear I'm right, is that the reason there's been no certiorari granted on any of the gun cases is because the Heller majority had two weak links. Heller and McDonald may very well be the best Scalia could extract from his colleagues who formed the five justice majority in those cases.
Our best case scenario is quickly shaping up to be President Trump picking Scalia's replacement. I don't know if that scares you, but it scares the hell out of me. Makes you think that maybe McCain & Romney weren't such bad guys after all.