John Richardson points to an interesting map showing support for gun control. It looks to me done by congressional district. Looking at the source, I'm doubtful this is a scientific poll, because the participants are self-selected, but I like how they broke down the data in this manner: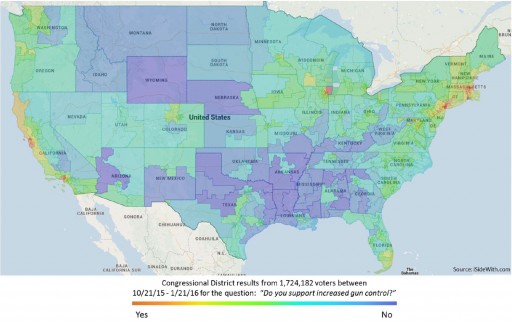 My district (8th) is a big greenish, so about split, but 6th and 7th district are a lot more yellow than I'd like them to be. That's not necessarily disaster, however.
As it stands now, all those district are represented by Republicans, two of which (Fitzpatrick & Meehan) are soft on the gun issue, but 6th (Costello) is more solid. An intensity gap can make up for an unfavorable public viewpoint, but I've found gun owners in Southeastern Pennsylvania are largely apathetic about protecting the right for themselves and future generations. That's not everybody. There are people here definitely willing to stand up and be counted, but not nearly enough given how many gun owners live here and what we're up against. To some degree we've always free-ridden on the work of Western Pennsylvanians. But that will end as that part of the state depopulates.