I wrote not long ago about Stockerton Rod and Gun Club being in trouble over accusations that rounds were leaving the range. Now it seems another ther club in the area is coming under scrutiny over errant rounds. This time it's Belfast Edelman Sportsman Association. The local news station reports:
Not all complaints against gun ranges represent anti-gun or NIMBY sentiment. People who build or buy houses next to ranges should expect to live with noise, but bullets leaving a range at dangerous velocities and trajectories are a different beast entirely. The setup of Belfast Edelman looks similar to Stockerton. I decided to Google the club's location, start up street view, and "drive" down the road downrange of the club. Sure enough, I found the house in this report right where I worried I'd find it: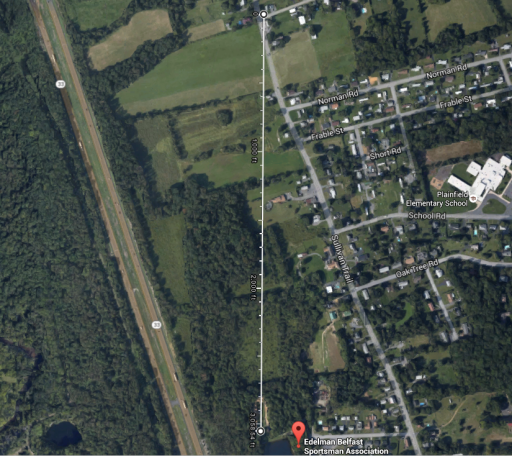 She's about 1000 yards downrange, which is close enough for bullets to strike her house at sufficient velocity to maim or kill. A 7.62x51mm (.308 Win) round would still be traveling in excess of 1000ft/sec at that range, and with about the muzzle energy of 425ft-lb. This woman isn't exaggerating. If she's being hit by the kinds of rounds typically used for hunting, it is as big a deal as if someone fired a 9mm into her house from the street.
The club made the right decision to close their range. Hopefully they have the funds to make needed safety improvements. If you're ever involved in a club that ends up in a situation like this, NRA does offer range consulting to clubs in trouble. They can also offer grants and whatnot to make the needed safety improvements so that struggling clubs can stay open. I'm very sympathetic to clubs that end up in this kind of trouble, but residents do have a right to expect clubs will maintain safety standards such that rounds will not leave the range in a dangerous manner such as this.