I finally made it out to the range for the first time in (mumblemumble). Had fun, but of the 100 rounds of 9mm Remington UMC expended, I had 3 failure to fire. The weird thing is, they all happened out of the same string in one magazine (of the 10 rounds loaded, 7 went bang, 3 went click), were not adjacent, and the next 10 rounds out of the same magazine were fine. I recovered the rounds and took a picture.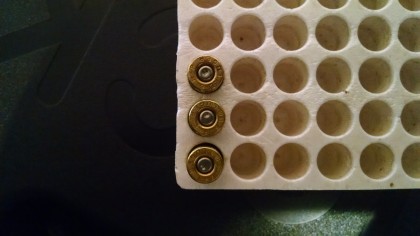 Since I'm actually somewhat inexperienced at actually shooting, I figured I'd ask here: did I just get unlucky, or is there something I did or failed to do here?
Pistol is a G17L, with probably somewhat less than a thousand rounds down the pipe since I've owned it, and it was allegedly new when I purchased it. I'll run a boresnake after a range session and usually take the slide assembly apart and scrub the places the book says I should – range sessions are 100-150 rounds. It's sat unfired for a couple years since last session. Magazine is OEM 10-round.