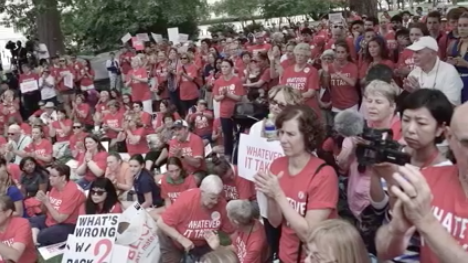 Everytown's rally on Capitol Hill, that they said would be "massive" turned out to be no bigger than a typical Friends of the NRA dinner. The Philadelphia FNRA dinner turns out twice the number of people as are in that crowd every year:
In an email promoting the event last week Everytown for Gun Safety had promised to "flood the Capitol grounds with gun sense supporters," and said the protest would be "massive." Everytown did not provide an estimate on crowd size in their press release summarizing the event.
If you're going to beat your chest like this, you better be damned sure to deliver something extraordinary if you plan to scare politicians. Bloomberg's rally is in the realm of "things politicians are used to seeing on Capitol Hill. This is not. Donna Dees' does not need to worry. She is still the reigning queen of gun control rallies. At least Bloomberg didn't have to blow a ton of money on busses and box lunches.
Everytown has not been completely without effect, however. Gun sales are smashing records. See? They are having an impact.