Bitter is in Oklahoma for a family emergency, so I'm on my own this memorial day. I saw this meme from someone on Facebook, and boy does Facebook need it: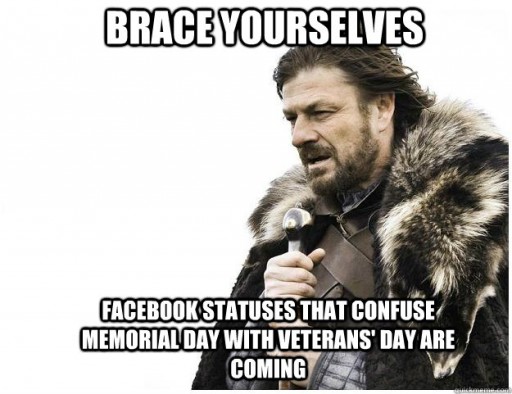 I never really used to care about the distinction until I got into genealogy. As is the case for most families, I have several soldiers in my tree who died in combat. For most of them, that was the end of their family tree. We remember the surviving veterans because we're all descended from them, but those killed in action tend to be cousins, uncles, and sometimes even aunts. Most of the time I try to do thorough research on these folks when I find them, as if they were my ancestors. They deserve it, and they never had the opportunity to have descendants of their own that will care decades or centuries later because their lives were cut short in service of their country.
I found I have a first cousin, twice removed, who was part of the 508 Parachute Infantry Regiment who dropped into Normandy June 6, 1944 and was KIA June 8, 1944. He was posthumously awarded the Purple Heart. I found a Christmas card to my grandparents that he sent from Camp Blanding, Florida in 1942, before he was shipped to Europe, and before my grandfather entered service. The card said he was having a great time in training.
My cousin's name name was Pfc. William McKnight. Even my father did not know of him. My grandfather talked about his war experience only very reluctantly, and even then not much. He certainly did not volunteer anything, including that he had a first cousin killed in the early days of the invasion of Europe.