May 11, 2015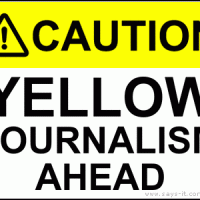 A few weeks ago, Yahoo News published a hit piece on NRA. I figured this was likely ginned up by some of our opponents in the gun control movement. Most of the mainstream outfits would love a story like that, but the fact that it only appeared on Yahoo, to not much fanfare from the rest of the media, hinted to me that whoever wrote it probably did not follow the barest of journalistic standards, and quite possibly was an operative from the other side, especially given that the author is associated with a left-leaning group Center for Public Integrity, which is supported by supported by George Soros's Open Society Foundation and has a board stocked with people who are not friendly to Second Amendment freedoms.
At the end of that article, you'll notice a quite lengthy update, where NRA has addressed many of the allegations against it. When I first saw this article, I thought that it was probably a coding error on their web site, because to be honest, the firm they hire to do that kind of work has been sloppy in the past. Because we're often using the PVF web site to look up grades, I can't tell you how many times it's just been broken. Though, it's been pretty good recently, so maybe they've hired some better people.
Of course, none of this has stopped our author, Alan Berlow, from noting the calls for the Obama Administration to sick his weaponized IRS on NRA, calls that are coming from the rabid dogs at Coalition to Stop Gun Ownership.
A key thing people get confused about when it comes to campaign finance laws is what constitutes political activity. To use an example, here's an add NRA ran in Colorado ahead of the 2014 elections:
Some folks might say this is clearly political activity, but it does not call for people to support for, or oppose any bill or measure. It does not mention any candidate for federal office. This is educational outreach, rather than political activity. This ad could even be funded under the auspices of a 501(c)(3). In fact, a good bit what NRA does that many people might think is "political" is done under a 501(c)(3), NRA's Freedom Action Foundation.
This article was pretty obviously a targeted hit piece. That's even more apparent when you consider none of the other MSM outlets, who'd love to be all over a story like this, really touched it. The only other outlets I saw talking about it are Townhall and Brietbart.
One Response to "Calls to Turn Weaponized IRS On NRA"
Trackbacks/Pingbacks
SayUncle » Punishing your enemies - […] Calls to turn weaponized IRS on NRA. Well, it seems like this administration has turned the IRS on other…