Mar 20, 2015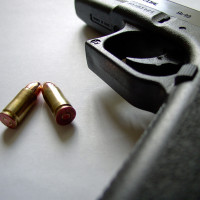 The Pittsburgh Post-Gazette's editorial board doesn't like Act 192 very much, or National Reciprocity. The media has been chicken little on this issue since the 1980s, and it's always been a big nothing burger once it passes and blood fails to run in the streets. I also very much enjoy this meme promulgated by ignorant journalists:
The bill would hold hostage states with stronger gun laws (Pennsylvania, for instance) to those with weaker ones (such as Florida).
What? Despite our opponents best efforts to lie this meme into existence basic research, even ten minutes on Google, would have shown this to be complete nonsense peddled by groups who aren't afraid to lie to make their case.
All it took to get my PA License to Carry was to go down to the local County Office, fill out a form, get my photo taken, pay $26 dollars, and one week later the license came in the mail after clearing the PICS check. That's it.
To get a Florida license, I first had to get a training certificate. That wasn't free. I think the one day course cost about 150 dollars. Next, I had to go down to my local police station and get fingerprinted. They charge ten dollars to do that. I had to get passport photos, so another $15 or so dollars. I had to fill out a form that was much more involved than the one Pennsylvania requires. I had to write out a check for 112 dollars, and send the application packet in. I had it sent back, because they require the LEO contact information to be on the fingerprint card, and I had forgotten that. Then I had to wait while they ran the FBI check. The license came in about 4 weeks.
No one who has ever had to use both systems would argue that Florida has the weaker system.
I'd also point out that no one on the editorial board even bothered to look up that Pennsylvania and Florida already have reciprocity, and that the bill currently in Congress would not allow a state resident to carry in her-or-her own state solely on an out-of-state license. So with regards to their objection about Florida, the bill in Congress would change absolutely nothing.
7 Responses to "Chicken Little on National Reciprocity"