Mar 23, 2015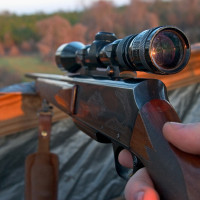 In truth, there are so many bills running, I can't keep track of them all. In Vermont, it looks like a bill is running, S.141 to replace the failed private transfer ban. This looks like a straight up NICS Improvement Amendment Act compliance, but NRA is still saying "S.141 remains a solution in search of a problem," and asking people to call their State Senators to urge them to vote against it. It would be bad for Bloomberg to be able to declare victory in Vermont. Also in trouble is Oregon, which is looking to pass a transfer ban as well.
Constitutional Carry was doing very well in West Virginia, until it met Governor Tomblin's veto pen, a bold move in a state that keeps getting redder. Constitutional Carry is still alive in Kansas, and is headed for a floor vote in the House. It has already passed the Senate there. It's also looking like it might not be so dead in Idaho, as they are looking to pass Montana Carry (no permit required outside of cities). Utah's Senate passed Constitutional Carry, but it faces an uphill battle in the House, and the Governor has vetoed it before. Tennessee tried to pass permitless open carry, but failed. Tomorrow, there will be a hearing for Constitutional Carry in New Hampshire.
Nebraska has a preemption bill in the works.
Missouri is running three pro-gun bills.
Arkansas is repealing its prohibition on green card holders from obtaining licenses to carry, and also passing a "shall sign" measure.
In Virginia, Governor McAuliffe signed two pro-gun bills into law, but still has another six sitting on his desk.
Iowa is trying to repeal their handgun purchase permit requirement, prompting Mom's Demand to try one of their lame stroller jams. It didn't work. The House passed the bill.
Bloomberg has launched a campaign to stop constitutional carry's momentum, which is evident from all the opposition pieces in the media using their poll showing people don't want it. If you read how the poll was asked, there is probably a lot of confusion about whether support for the permit system is a pro or anti-gun position. I would argue their poll results are useless for supporting their position.
Campus carry is doing pretty well in Florida and Texas. Marion Hammer, NRA's lobbyist for Florida, is arguing the opposition is using taxpayer money.
And this is hardly a comprehensive list. Overall, we're doing pretty well, though we do risk going backwards in Oregon. There are a lot of blue states that are unfortunately probably lost causes over the long term.
11 Responses to "What's Going on in the States?"