The case of Tyler v. Hillsdale, from Michigan, filed in federal court challenging the prohibition on individuals with who have been involuntarily committed or adjudicated mentally defective, as applied to the plaintiffs circumstances. There's a reason that Dave Hardy is calling this a major case, because I believe this could result in Congress having to restoring funding (denied since 1992) the relief from disabilities program, since the Circuit Court ruled that his rights could not hinge on whether or not a state has implemented its own relief from disabilities program as enacted through the NICS Improvement Amendment Act of 2007.
Note that this is an as applied challenge to the prohibition, not a facial challenge, meaning it's still presumptively constitutional to prohibit individual with a mental health commitment or adjudication from obtaining firearms. Mr. Tyler, the plaintiff in this case, had a very brief mental health crisis after a messy divorce, and has been fine for years since. The Circuit Court ruled that a lifetime prohibition was a violation of his rights under the Second Amendment.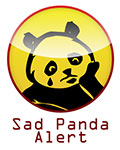 Violence Policy Center was originally the driving force behind the FOPA restoration of rights provision getting defunded by Congress back in 1992. Sugarmann managed to accomplish this by pointing out cases where felons had their rights restored, then went on to commit heinous crimes. He's been trying a similar tactic with his "Concealed Carry Killers" campaign. So this ruling will undoubtedly make Josh Sugarmann a very sad panda.
h/t to Robb Allen for the icon.