Nov 10, 2014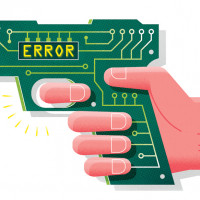 This should be enough to convince anyone that gun control people are technocratic central planners who are more than just a little uncomfortable with the idea of anyone exercising individual control over their own lives and destinies:
In other words, instead of enforcing "safe environment" rules by way of checkpoints where guns are not permitted (on airplanes, in consulates and embassies and so on), "we propose to address these safety areas within the firearm itself". The gun would negotiate its operations by communicating with the safety area transmitter.
So they get to decide on a central basis when you can and can't defend yourself? Hell no. This is an answer to a question that nobody asked, except for those types that spend an inordinate amount of time and energy trying to run everybody else's lives.
It's good to see inside their minds.
5 Responses to "The Latest on Smart Guns"