I am just now starting to really like some of the efforts to market more feminine gun accessories.
For years, the extent of actual gun gear related to women was having something come in pink. Pink is fine. Plenty of women like pink, and it's great that their market is served. But when I see pink guns, I think of how much my 6-year-old niece would like it.
I have never liked pink. When I was a girl, my preference was purple. As an adult, it's all shades of brown and shiny like rose gold – which another company just released to the market recently.
But when I saw this pop up on Jacqueline Janes's Facebook page, I fell in love.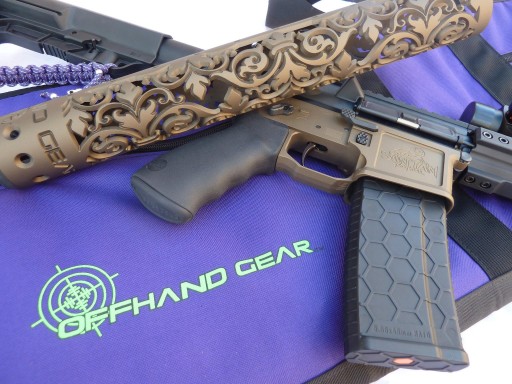 This is beautiful, and feminine, without a trace of pink.
It's almost like men in the industry are starting to realize that adult women probably shouldn't be exclusively marketed to like 10-year-old girls. Or, maybe women have finally taken over enough spots in the shooting world that they could now voice their opinions that the novel pink offerings are cute and all, but they aren't really attractive. (In the case of the pretty fleur-de-lis hand guard, it's a woman-owned company from the looks of it.) It's nice to really start to see more variety in the pretty gun gear market.