I've had a female Downy Woodpecker whose taking a liking to the Type 111 siding on my house, like she has a calendar that says "From 11AM to 2PM: Go Peck on That Dude's House." Since it's not the right season for woodpeckers to be drumming, and since female woodpeckers don't do that anyway, my first belief was that I had wood boring insects. A quick romp around the attic with a flashlight and a knife showed no sign of insect infestation in the studs or siding. Whew.
I came across research that showed woodpeckers like Type 111 siding painted in earthy colors. There are insects that like to lay eggs in the channels, which the woodpeckers eat, and then peck around at other parts of the hollow sounding siding to see what else they can find. She doesn't seem to be boring, as if to make a nesting site. She's chipped away not very deep in a few areas. It could also be that she just like the sound my house makes when she pecks on it.
Now, if I lived in the middle of nowhere, this would be a prime opportunity to practice the three S's, but I'm not living in an area where that can exactly be done discretely, and I'm concerned that she's pecking pretty high up on the house, and a miss with an air gun could damage the flashing or overhang on the roof. So I'm stuck with other forms of control. She didn't seem too impressed with me chasing her off with a super soaker. She'd leave for a while then come back pecking just as before. I thought about an airsoft gun, but I'm concerned that would maim the bird, and I don't think that would be very humane.
The only solution I could come with is appeasement. If she's hungry, she can have her fill of suet, rather than peck at my house.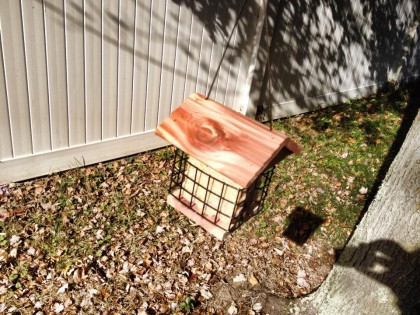 What other control techniques have people found effective for dealing with woodpeckers, short of lethal means or trapping? So far she hasn't done very serious damage to the siding, but it's bad enough I'm going to do some puttying and repainting up there once I've been rid of her.