I've seen this going around Facebook pretty virtually. This is a pretty good metaphor for how we argue politically these days: take the worst straits of jerks on the Internet and apply it to your political opponents as a whole.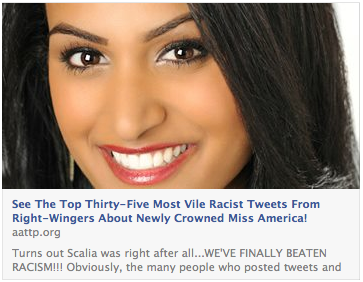 Maybe I just don't run with any real "right-wingers" but I don't know anyone who a) give a shit about the Miss America contest or b) gives a shit that it was won by a woman of Indian descent. The great thing about the Internet is that there are plenty of ignorant jerks on it, and the left have become expert at taking jerks and making those of us right-of-center own them. It's an odious tactic, but it works. I think when new media first came out, the right owned it. I think the left owns social media. They are so much better at this stuff than the right, it's not even funny.
My big fear with the direction of political discourse in this country is that we're all increasingly viewing other people who don't agree with us, that nebulous "other," as a hapless caricature. It you really look at how this works, such that it takes off as a meme, it feeds on every caricature people on the left think about people on the right. Politics is increasingly becoming people shouting at each other in a cartoon world.