Apr 26, 2013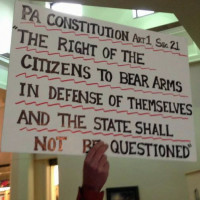 This is why the gun control debate isn't going away in Pennsylvania.
It's kind of funny that we're not currently facing any serious threats at the state level, yet Pennsylvania seems to be right on an edge of voting for major gun control supporters.
It doesn't make me feel any better that some are speculating a MAIG mayor who raised tons of cash for a re-election effort that was abruptly cancelled may turn that into a super PAC fund.
9 Responses to "The Problem of Pennsylvania"