Apr 26, 2013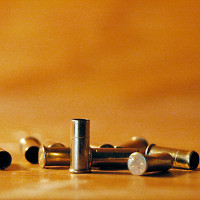 Clayton Cramer blogged about the possible impact of a copper mine landslide on ammunition production, and that got me thinking about the extended impacts of today's continued ammunition shortages.
Working with the Friends of NRA program, I've met several local instructors for youth shooting programs. Since most of these folks work with new junior shooters, they always start off with .22. I know at least one local Boy Scout camp shooting instructor who seriously questioned their ability to have any kind of shooting program due to the lack of ammunition. This is a long-term problem, folks. Every opportunity we lose to introduce new shooters to safe firearms handling is an opportunity to lost creating another pro-gun voter in the future. At the very least, it's the loss of someone who likely won't become hysterical gun policy debates because they at least have some basic understanding of firearms.
I've actually thought about getting back into shooting at Sebastian's club more this year since I largely haven't shot anything in a good year or more. But then that goes to the issue of not wanting to use up what ammunition we have knowing that we can't easily get more of it.
A local gun shop is showing their new shipment of 50,000 rounds 5.56 which is already on sale (normally, they wait and put all ammo on sale on Saturday mornings) and even available for up to 10 boxes purchased at a time. Meanwhile, the few boxes of .22 are limited to one box per customer. I'm not sure I'll ever get over the shock of .22 being the high demand caliber of ammunition.
I am thinking about pestering Sebastian to fix my Crosman this year so I can shoot air gun again. A quick search of places that sell pellets actually show specials to get a free tin (or multiple free tins!) of pellets with a purchase. That's a very refreshing change to see. (For what it's worth, any air gun billed as "tactical" makes me laugh.)
25 Responses to "Long Term Consequences of Ammo Shortages in .22"