If you're like me, you may be seeing Gabby Giffords's face on nearly advertising-supported website asking for money to fund her PAC. We can also find Joe Scarborough calling on the president to covertly work with a billionaire to buy local elections where the little people don't vote the way the elites think they should. Then there's the Brady Campaign telling a political outlet that they will start using their PAC to get involved in elections.
One of these sentences is not like the other.
If you guessed it was the Brady Campaign turning into a campaign operation, give yourself a pat on the back and maybe a Snickers bar for good measure.
On the senators who voted against the bill, Brady Campaign President Dan Gross told PI: "We're watching them and we're holding them accountable." He added, "We're flooding calls from the American public into their offices." Brady said the group would look at using its PAC against members of Congress who voted against yesterday's pro-gun-control amendment. "We are definitely going to be looking at what we can do on an electoral level," Gross said.
Well, Dan, let's help you look at what you can do on an electoral level based on the most recent data you filed with the .gov.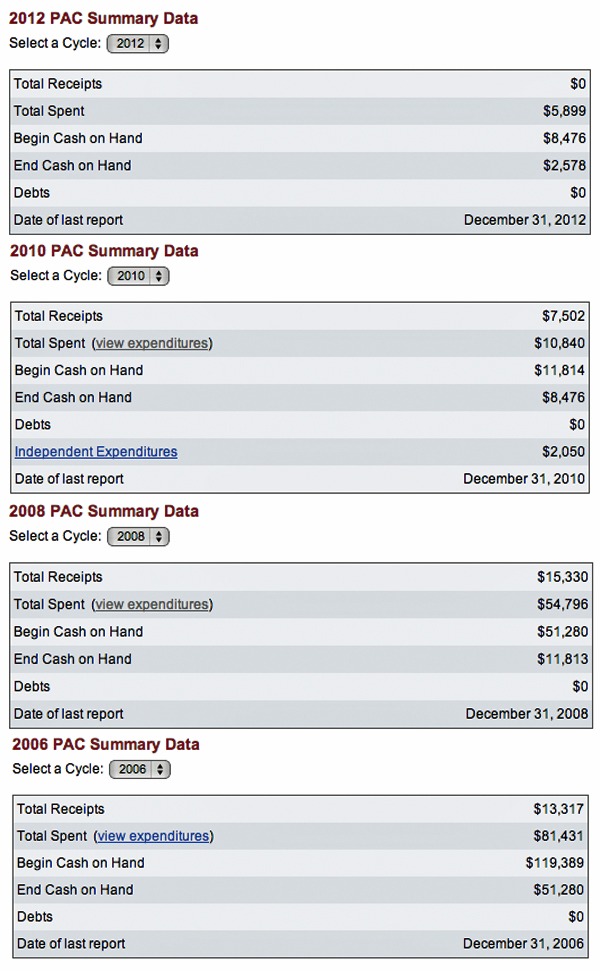 Even after Newtown and knowing they would likely need to launch an electoral fight, the Brady Campaign raised a big fat nothing for their PAC in all of 2012. Either Dan Gross is lying to the media about his intentions or he's grossly incompetent in understanding that their current cash on hand in the PAC isn't even enough to make one maxed out donation and pay all of the fees they appear to have in maintaining the account annually.
Now, I realize that they may be able to raise money for the PAC this year, so we'll keep an eye on it. Regardless, I feel like Politico left out key context to the story of their potential involvement by deliberately ignoring the fact that they have raised less than $37k since 2006 (when Paul Helmke took over) and raised absolutely no PAC dollars under the current leadership.