Jan 27, 2013
OK, so I'm starting out learning to fly very cheap and simple RC helicopters. My current one is showing here. A basic v911 fixed-pitch heli which can be flown indoors or outdoors in light wind: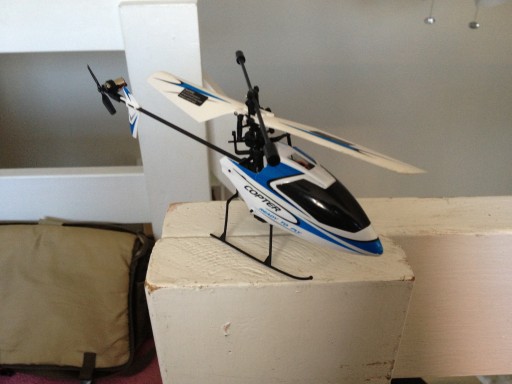 I am looking to upgrade, at some point in the not so distant future, to a collective-pitch model. I am looking at the Blade mCPX v2, or debating whether I want to jump to something bigger. If I'm careful, the wind isn't too bad, and don't hot dog very much, I can avoid crashing.
My eventual goal is to work up to a larger bird, capable of lofting a video camera, transmitter, and possibly flying autonomously if necessary. I'm not sure how much bird I'd need to loft that much gear, but that's more in the distant future. My sometimes co-blogger Jason (owner of the CNC and 3d Printing hardware) was working on a quad-rotor design a bit back with more advanced capabilities than typical RC helis, so at some point I might talk to him about reviving that, but for now I am just enjoying learning to operate these things and harassing the neighborhood bird population.
So any transmitter advice anyone can offer would be appreciated. I'm probably thinking a six channel, like the Spektrum DSX6i, and if anyone has any experience with the Blade mCPX as a beginner collective-pitch heli, I'd be happy to have advice or warning there too.
21 Responses to "New Hobby Bleg"