I am hoping someone out there might know something about digital music. I am a person of many hobbies. Sadly, most of them are holes in which money is poured. If I did them all at once, I'd quickly go broke. I tend to get into a hobby very intensely, then put it away for a while and pick up another one until I get bored with it, then continue the cycle. Shooting is a hobby I was very intensely into 2007-2011 or thereabouts. Since then I haven't really been shooting or collecting much. About a month ago, I decided to revive a hobby I've literally been keeping in the closet for the past 20 years.
I was trained in classical piano from the time I was 5 years old until I was a junior in college. Then my mother died, and my grades started taking a nosedive. I stopped lessons with my teacher of, well by that time pretty much all the life I remembered, and just stopped. I had to focus on getting my GPA back up, and I did. A few years later, my piano ended up with my sister, and the synth I had bought with the proceeds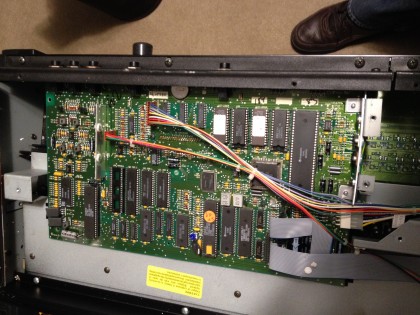 of a summer job when I was in high school got put away, not to be thought about until, well, about a month ago when I pulled it out and set it up to play for the first time since I was in college. Other than having to solder in a new battery to the mainboard, the thing still works fine. Pretty good for a 1991 manufacture date!
I set out with the goal of learning something new. Learning an instrument is not like riding a bicycle. Your fingers forget how to do all that! I could remember nothing of pieces I played for years, so I started new with something new (to me) and simple:
It took about two weeks to memorize it, and then another two to work out all the MIDI stuff so I could use the Mac to act as the synthesizer for a harpsichord SoundFont I wanted to try. The default harpsichord that comes with Garageband sucks (Garageband itself, I'm convinced, is meant only to convince you to fork over $200 to Apple for Logic Pro), and the synth has no native harpsichord sample (though you can construct a pretty convincing facsimile from other instrument samples). I managed to find the open source FluidSynth and a decent Virtual MIDI router for the Mac, in order to fix the key velocity, so it wouldn't be louder or softer depending on how hard you hit the key (real harpsichords don't do that).
So after learning this first piece, an amazing thing started to happen. Somewhere in the recesses of my brain, neurons started to bring some old files out of storage, and some of my old pieces started to come back without me having to refer back to the music much. I might plod through once or twice, but then something clicked, and suddenly I remembered it. I got through the first movement of the Moonlight Sonata that way, since I learned that when I was quite young. The second and third I learned later, so they are not coming back very much. The third is difficult, and even referring back to the music, my fingers still aren't up to the task. My non-dominant hand is still partially "disabled" when it comes to articulating piano keys, over what it used to be.
I've gotten to the point that the unweighted keys on my synthesizer are driving me batty, and I don't really want to deal moving and finding room for a large acoustic instrument, so I'm thinking of going digital. I have my eye on a Kawai ES100, but there are no dealers in this area who seem to sell it, and I'm a bit nervous about ordering an 800 dollar piece of gear without first trying their "AHAIV-F Graded-hammer action." I've read good things about it, but everyone is different in what feel they prefer. I'm hoping I have some musician readers who can offer advice. Any at all would be welcome!