Jan 21, 2013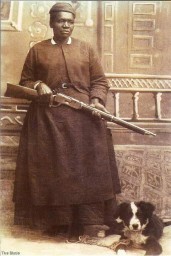 A former slave from Tennessee, Mary Fields, holding the assault weapon of her age. The Winchester 1876 carried fifteen rounds, which is more than double the amount deemed necessary for self-defense by Governor Andrew Cuomo  and the New York State Legislature.
Today is Martin Luther King day. King is, by some ways of looking at it, the man who finally won the Civil War. In the Reconstruction and Jim Crow era, often times Blacks had to protect their rights as Americans with Winchesters like the one Mary Fields is seen here with. Their tormenters just as often government as private terror groups. Often they were the same thing. Indeed, as many have documented, the history of gun control is intertwined with the subjugation of African-Americans as second class citizens. They went hand in hand.
Hat Tip to Cemetery, who has the full sized photo.
2 Responses to "Photo of the Day"