Back from the legal seminar. Heeding God's Call apparently decided they were going to protest, since I guess God doesn't like Second Amendment law seminars. Throngs of people showed up, with tons of enthusiasm and energy. We were overwhelmed by their presence. Or not: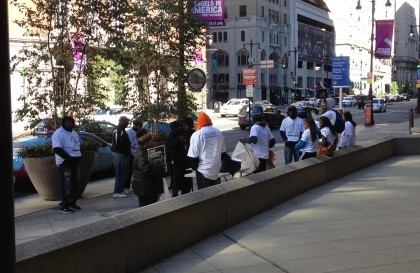 One woman is wielding a sign that says "Stop Shooting People," which is a serious problem when you bring academics and lawyers together in one place. Perhaps they thought the seminar happening in the Ormandy Ballroom was just a clever cover for the arms bazaar that was no doubt occurring in the Mogadishu Ballroom on the next floor. But what was going on inside?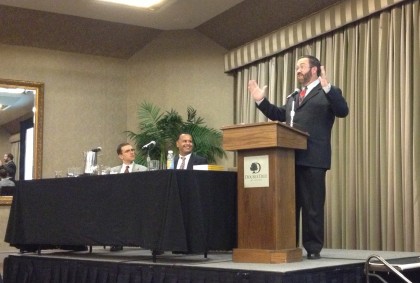 Clayton Cramer talking about the history of California's Concealed Weapons laws. Seated to his right is Professor Nick Johnson of Fordham University, who had just given a talk on firearms and the black experience. Seated to the right of Professor Johnson is John Frazer, Director of Research for NRA-ILA who spoke himself, and also moderated the forum. Clearly very dangerous people who'd make a regular habit of "shooting people" if not for protesters holding signs.