I have been following the debate in Caleb's comment section, and I wanted to point out a particular thread. I have to photo capture this because Caleb's theme doesn't seem to easily allow linking to comments: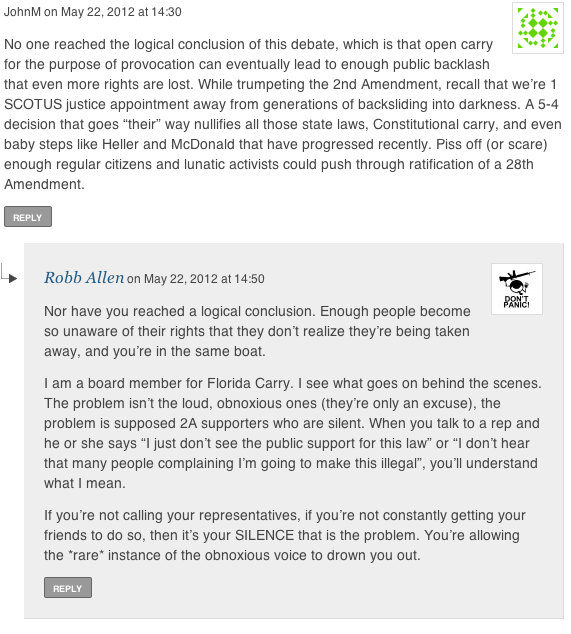 I think John makes a good point. We're really not as far along in this debate as many think. Gun owners need to repeat this unfortunate fact: the vast majority of Americans are wholly unconcerned with their rights, other than the rights which affect their individual, daily lives. If you're talking about appealing to a deeply held principle of natural rights, that makes perfect sense to people who have studied Locke, or read the writings of Jefferson, Madison, or Adams, you're talking about a concept that completely alien to the people who actually vote in elections. You can blame the educational system, or what have you, but the vast majority of the American public are not ideological voters. Most voters vote their interests, and you have to appeal to that.
Robb's frustration in this is completely understandable. I have shared it many times. You will drive yourself crazy by what other gun owners are unwilling to do to support their own rights, even though we all share broad agreement. I don't think many gun owners really understand the house of cards that this issue is built on, largely because of another bias in that thinking other people, of course, naturally have similar thought processes to you.
I have pointed out this thread, because I think this is one of those cases both people are making really excellent points. Worrying about public backlash is a concern of someone who understands the outer limits of this debate. We're talking the issue being pushed by a determined minority, and if that determined minority is meets the brick wall of obstinate public opinion, the issue won't advance much farther.
How far you can push your issue as a determined minority completely hinges on your ability to influence legislators and threaten their cushy jobs. It hinges on nothing else. If they are not true believers, and almost none of them are, your ability to influence them comes down to, in reality, a good poker bluff. You have to make them believe you can threaten their seat if the bluff gets called. But the politician you're influencing also is bluffing. He's betting you don't have votes behind you on an issue he's trying to avoid taking a position on, or is thinking about taking a contrary position on.
Neither you, nor they, may be entirely convinced who's really bluffing. It is an accepted fact in politics now that when the gun vote really does get motivated, the results are epic. That's the space you, as an activist, have to work in. If the politician in question calls your bluff, you better be sure you can deliver, or else your credibility is finished, and you can expect that legislator will no longer give a rat's behind about anything you have to say.
This is the nature of the game, and it is a game. Don't for a second kid yourself politics is about principles, logic, or deeply held tradition. You can appeal to these things; rhetoric is important, but it no more than a part of the game, of building a mystique, of posturing and maneuvering. It serves no purpose apart from that. It is deeply cultural, but also, at the end of the day still a game.
My opinions on open carry are driven largely by the fact that I see it divides gun owners, and our losses have always been driven through issues that divide us, whether it be background checks, or years ago the utility of these newfangled AR-15s, or cheap Chinese semi-automatic knockoffs of the AK-47. Our opponents have traditionally won where they've been able to exploit division in the ranks. Let me clarify that — our opponents have only won where they've been able to exploit division in the ranks. So I think when you get other activists, not just ordinary gun owners saying, "You know, I'm just not sure about this," that should give you very serious pause, and open carry is one of those issues.
The question is whether, like the assault weapons issue, we can spend the next two decades educating people. I think what motivates most gun owner activists which are wary of open carry, is that even if it is a topic that 20 years of education can turn around, Â it's practically worth the effort expended when compared to other issues we have to build consensus for. In many ways, I think constitutional carry (i.e. carry, open or concealed, without a license) is less radical than open carry as a form of activism among gun owners. I think it is always important in considering whether a particular course of action offers opportunity to your opponents, and I believe in some cases, this can be the case with open carry. But not in all cases.