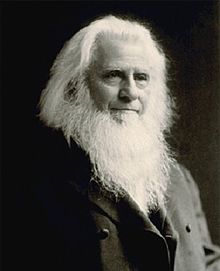 With my first red wine now bottled, I can turn my attention to my next wine making endeavor. I made a few mistakes with my red which I will do my best not to repeat. My main complaint about the first red is that it was lifeless and watery. I racked into my brewing carboy for secondary, and topped off with water to fill the remaining headspace. Then I recalled that the standard winemaking carboy is six gallons, where as my brewing carboy is six and a half. I watered the wine down too much. That also affects how well the wine clarifies. It's not that the wine is bad, it's just that it's not good. Hopefully with a little bottle conditioning, it'll improve a bit.
What I'm going to try next is a white wine, made from reconstituted Welch's 100% Niagara Grape Frozen Concentrate. After reading the history of Thomas Bramwell Welch, I decided I had to try this. Welch was the first person to get the idea of applying Dr. Pasteur's microbe killing process to grape juice. There were many things to admire about Dr. Welch, being an abolitionist and active on the Underground Railroad. But he was also a world class busybody prohibitionist, and it is that particular history that has made me decide to turn some of Dr. Welch's Unfermented Wine into a real McCoy. It would probably kill the old man to know the company that he founded, and bears his name, seems to be on relatively friendly terms with the home winemaking community, and willing to answer questions from home winemakers using the Welch's product to make wine. But I suppose this day in age shouting, "Be gone sinner, and drinker of the demon spirits!" into the phone of people wanting to know the acid additions to their grape juice, or sulfite concentrations, wouldn't go over too well among the juice buying public, never mind hobby winemakers.
What the body politic did to prohibitionists is a wonderful lesson for our cause. To the extent there even are prohibitionists these days, they are viewed as out of the mainstream and quacky. We almost have the opponents of gun rights there, provided we keep pushing. I'll drink a toast to Dr. Welch, and his company, and hope in our current struggle, our opponents suffer the same political fate.