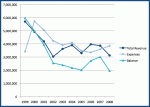 The Brady Campaign board decided to hire a president whose entire background is in advertising and non-profit work. He has no political background that I've seen, and what little does exist is entirely focused on New York. In other words, they hired someone who seemingly has no real network to get started on the DC political scene.
Now, assuming he's a Democrat*, that will be an automatic in to gun control political circles that Paul Helmke never had. Unlike Helmke, he should have a background that the gun control caucus from highly urban areas can rally behind. But, since he doesn't seem to have any direct experience playing the political game, it will be interesting to see how far this kind "in" can really take him politically.
In my mind, this type of hire gives a little more credit to the idea we've been talking about for a couple of years now that maybe the Brady Campaign is taking a backseat to the Brady Center. It's probably easier to raise the (c)3 funds, and this would be a step in the direction of really focusing on the (c)3 work that isn't just centered around Dennis Hennigan's legal attempts to re-write the Second Amendment. Dan Gross can focus on happy, feel-good things that will look better to donors who might otherwise be tired of the losses they have faced politically and in the courts for the last three-and-a-half years.
*According to Open Secrets, there is a Daniel Gross from New York who has rather modestly donated to exclusively Democrats since 2007.