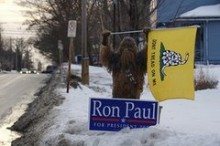 With the Iowa Caucuses well underway, I feel it's time to weigh in a bit on the 2012 GOP primary race. I am mostly despondent, a state of which I am quite familiar with when it comes to GOP politics. But, but, RON PAUL!!! How could I possibly be despondent?
Sorry, never liked the guy. I don't think he's a good libertarian standard bearer. I share Ilya Somin's view that Gary Johnson would have been a better candidate, from an ideological perspective. I share Professor Somin's disdain for the now infamous Ron Paul Newsletters. Probably the best account that covers the topic of Ron Paul's craptacular candidacy can be found over at Bleeding Heart Libertarians.
There is not even a pragmatic argument for refusing to condemn white supremacists–we are not talking about a significant fraction of American voters, even in the Deep South. For every white supremacist that might sit out the election if Ron Paul condemned their views, there would likely be a dozen voters who are charmed by Ron Paul's blunt speaking and in love with his foreign policy approach who would be more inclined to vote for him. My guess is that Ron Paul is not as hostile to those offensive ideas as he pretends.
That disturbs me as well. Roger Simon thinks Paul's actions border on blatant racism. I'm not sure I'm willing to go that far, but I've never gotten excited about Paul. Like many politicos, he strikes me as any other panderer, and he's certainly not been above bringing in the pork for his district to stay elected. That certainly isn't a mortal sin, in my view, being a politician, but a lot of folks seem to be convinced that he isn't your ordinary politician. I am less convinced.
Paul needs to answer for the material in the newsletters. If it were me, I'd disown them all. I wouldn't want that kind of support. But Paul has not done that. That tells me he's not really any different than other politicians, and you don't get to claim you're my savior when that's the case. So count me out as a fan of Ron Paul. I'm not going to endorse Mitt, by any means, at this stage in the game, but I'm not liking my alternatives.