In the comments of my last post, Grego pointed out firearmfiles.com where there are CAD files for a multi-part AR-15 lower where all the parts fit nicely in the working area of a Taig mill. It also doesn't require any special jigs or the crazy long, thin drill bit for making the hole for the bolt catch pin. Since I wouldn't need to make any jigs or buy any drill bits to finish that version, I figured I'd try it before continuing on with the normal one-piece lower. I went straight to aluminium since I had a slab the right thickness.
Starting to mill the left half of the lower out of a slab of aluminium.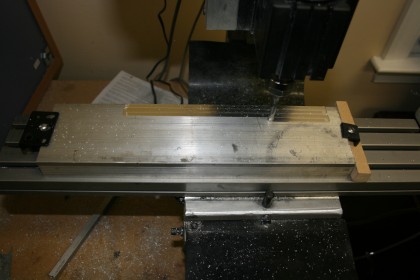 After the end of the roughing pass, where you can see some pretty crappy edges because I was making cuts that were too aggressive for the Taig.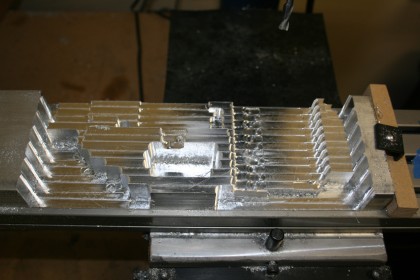 After a couple of contouring passes to give it the right shape.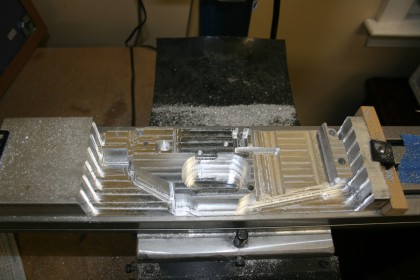 After the finishing pass.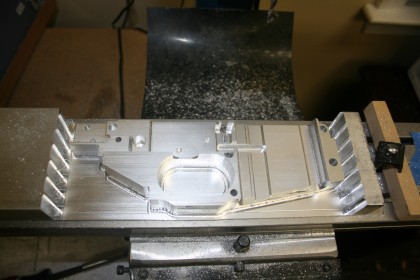 Now, use a band saw to cut off the excess aluminium block, flip the part over, and start roughing the other side.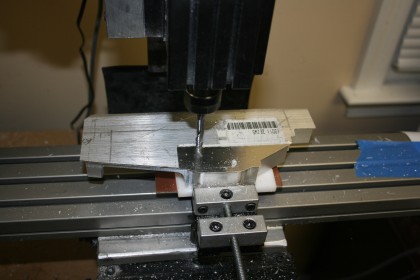 The four completed parts of the lower and the bolts that hold them together.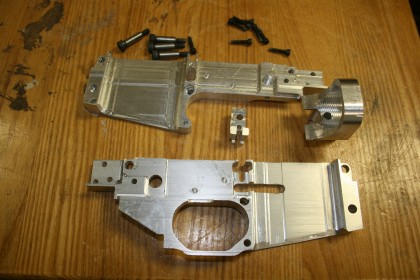 The finish is funky on the inside of one of the halves because, due to software issues, I was having trouble getting accurate Z positioning. Â I managed to fix the problem for the other parts.
The assembled lower.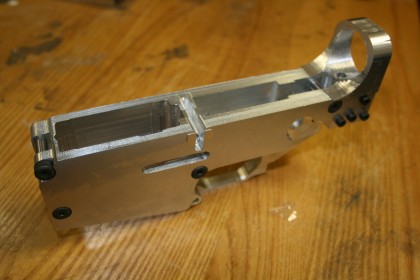 With the fire control parts installed.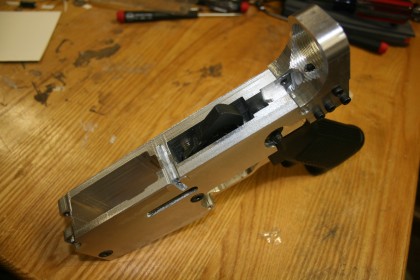 And, finally, the completed firearm.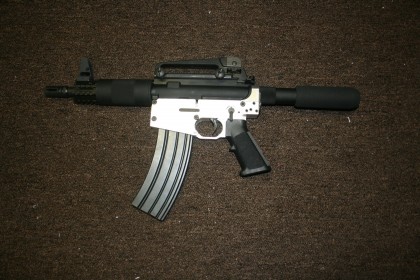 That's everything except the bolt catch. Since the bolt catch is held on by a press in roll pin, I'm going to leave that off until the lower is painted, rather than have to press it out again to do the painting. Â My plan is to treat with Alodine and then spray on Duracoat. I think that should work out pretty well, and it is easier than anodizing.
I modified the design a bit from the original. My version is thinner (though still not as thin as a standard AR lower), and instead of using a custom extended selector switch, I cut a recess so that a standard selector switch would fit.
Now that that's done, I'm going to try to finish the one piece Delrin lower. But first, I think I need to make some sort of enclosure for the mill to keep the chips from getting all over the place. When working on parts that big, it makes a hell of a mess. Normally, when I use the mill for work, I'm just working with small Delrin parts, making cutouts in aluminium sheets, or etching small printing circuit boards.