The following is a post by my friend Jason, who is not a regular contributor, but has posted in the past on our 3D magazine printing project. I thought this would be an interesting addition, and a demonstration of how technology is making gun control a virtual impossibility. Below is his post.
-Sebastian
I've been meaning to try this for a while now (using the AR-15 lower receiver solid model from http://www.cncguns.com/downloads.html), but I wanted to do it using all open source software, and was having trouble finding something that could generate tool paths from the AR-15 model. PyCAM seemed to be the best bet, but whenever I tried it on very complex model it would very quickly use up all the memory (8GB of ram plus 8GB of swap) and bring the computer to a screeching halt.
I recently had a project at work where I needed to make a much simpler part, and not wanting to go back to using BobCAD under Windows, I gave HeeksCAD and PyCAM a try. It worked out pretty well, and in the process I discovered and fixed a memory leak in PyCAM
PyCAM is still horribly inefficient in its memory usage, but with the memory leak fixed and a new computer with 16GB of ram I was finally able to generate decent toolpaths for the AR-15 lower.
The equipment/software:
So now I'm all set to give this a try, but I can't find the block of aluminum I had intended to use. But I did have a block of Delrin left over from an earlier project, and Delrin should be strong enough to handle a .22 cal upper. So I'm trying to make a delrin lower first for use with a .22 cal upper, and if that works I'll order some aluminum and make another lower for use with a .223 upper.
Note that I'm not an expert in material properties (nor a machinist) so don't take the above statements to mean that its safe to fire an AR-15 made of Delrin. Do at your own risk.
The original block of Delrin.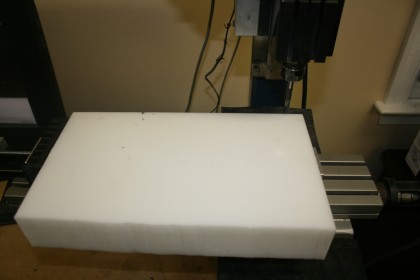 After a first pass rough cut with a 0.25″ diameter end mill.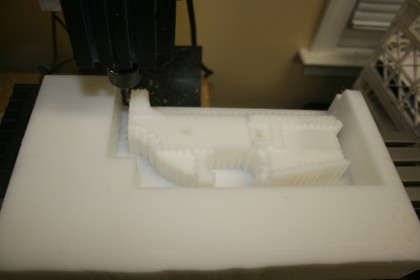 After a second pass using a 0.125″ end mill and a much smaller grid size.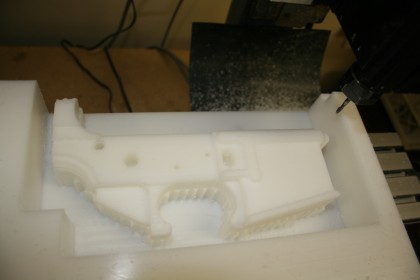 After a finishing pass with a 0.125″ ball nose mill.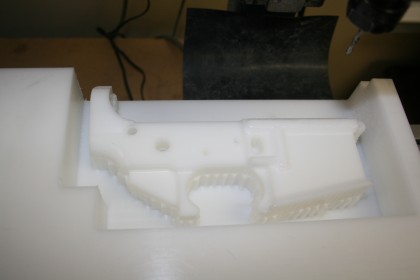 Now things are going to get a little complicated. I'm going to have to make some sort of jig to hold the part in place while I machine the other side.