I have to hand it to the Scottsdale Gun Club, they managed to find a holiday themed public relations campaign that has the wonderful side effect of making our opponents crap their pants. Here's an example: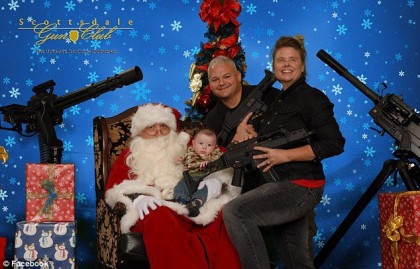 You will note from the comments to this picture, how our opponents react. I'm particularly stunned by this comment:

Maybe I'm being a bit harsh, but if you're going to claim power over me to set public policy on firearms, you should at least not be a total moron on the subject. I don't expect you to be able to identify this firearm as an H&K G36KV, but I do at least expect you to know what end pointy hot lead comes out of. I think most people who aren't complete idiots know what end that is.