Nov 7, 2011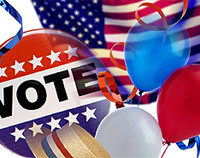 Tuesday is Election Day! We'll be heading out to vote tomorrow, and I hope you folks will be as well. (If you don't live in PA, this post doesn't really relate to you, but you can visit the PVF page for endorsements in your state.)
Did you know the NRA has issued endorsements in several of the judicial races? Yeah, you'd think as EVCs, we would have been told before Cam mentioned it on NRA News last week… Oh well, we know now.
For the Supreme Court, NRA supports J. Michael Eakin.
At the Superior Court level, NRA supports Vic Stabile.
For Commonwealth Court, NRA supports Anne Covey.
Polls open at 7am and close at 8pm. There will likely be absolutely no wait, so don't tell me you don't have time to go vote.
5 Responses to "Election Day 2011 NRA Endorsements"