Oct 20, 2011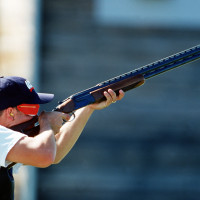 Willshoot.com, who started the whole thread with his post here, has some more good points on the whole subject Gun Culture 1.0 and 2.0 in clubs:
The solution would be simple: vote the board out and remake the club in the image that you desire.

However, in practice, the issue is that the GC1.0 can make the environment so undesirable for members of GC2.0 that they simply decline to participate. If ranges weren't so monopolized, it'd be easy for members of GC2.0 to start their own.
That's one of the problems with the aging of clubs. If those clubs close, or go belly up, they won't ever be replaced. We can't easily make more shooting clubs, especially in urban and suburban areas. My own club was founded in 1958, at a time when this guy was busy fueling the post-war construction boom, and transforming Bucks County from a more rural county with a lot of open space into this. Our club moved in the 80s, due to encroachment by development, and was relocated at the cost of the developer. It is highly doubtful that today, someone could find land to create a new club at a price anyone could reasonably afford.
Because of this, I think it's important for clubs to change hands from one generation to another, so that they don't die with their members. That is actually not that remarkably hard to execute a complete takeover of a club if you look at elections results. The reason it doesn't happen is largely the following factors:
Most members don't vote in club elections. This seems especially true of younger shooters who would be most likely to be brought up in GC 2.0.
Very few younger people have the time to serve as officers, or if they do have time, lack the willingness. A desire for change won't do any good if you're not able or willing to step up to do the work of running a club, most of which is mundane and unglamorous, and has little to do with a club's cultural direction.
Younger GC 2.0 people are less likely to join clubs to begin with, or try out GC 1.0 shooting sports, which means many clubs have no pool of shooters who would even be interested in something different.
Many GC 1.0 are too old to do GC 2.0 run-and-gun tactical stuff and be competitive. IPSC and IDPA are more athletic sports than bullseye shooting, trap, or silhouette. Even if they don't harbor any misconceptions or prejudices against practical/action shooting, they might not feel great about those kinds of competitions competing match and range times at their club, and may resist those kinds of matches.
So if you have a local club, my advice is to join. If you want to run a more practical-style match, take your match idea before the Board. Be prepared to make concessions to deal with their concerns. Once you have a match, you'll start building a constituency. Once you have a constituency, you'll get people engaged with the club, and from those people, you can draw candidates for the club's Board.
My club has 1100 members. Even at that size, 50 people showing up on club election night could elect an entire slate of new candidates if it was committed. Most clubs are smaller than mine, and the only practical match I know of around here was drawing 60 or so people even in the dead of winter with snow covering the ground. Change is difficult, but it is not impossible. If you want to change a local club, it can be done, but you need a plan, and you have to be prepared to make concessions. Maybe shoot from ready instead of holster, or limit the run-and-gun action in your early stages. This might mean your matches won't be sanctioned for a while, but as long as people are still having a good time, and you're drawing people in, that's all that matters. If they are dedicated to more of what you're offering, you'll start flipping club leadership quickly, and once you start doing that, you'll find yourself needing to make fewer concessions.
8 Responses to "More on Gun Culture 1.0 and 2.0 in Clubs"