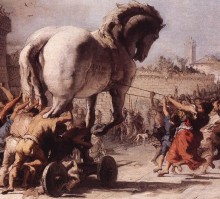 Here's some excerpts from Dudley Brown's latest e-mail alert:
Subject: Anti-gun bill getting worse!
I can see suggesting letting the feds involve themselves in concealed carry is a bad idea, but let's not get ridiculous here. Unfortunately, ridiculous is where this is headed:
As I type this, all-out war has been declared on your gun rights in Washington, D.C. by the House Judiciary Committee. Your National Association for Gun Rights has been warning you that H.R. 822 is a Trojan Horse.
Those bastards! Wanting to enforce the Second Amendment against the states using their 14th Amendment powers. If this is all out war, bring it on. I'm also incredulous at the implication this is a Trojan Horse. The fact that HR822 could, perhaps later, open the door to more serious federal involvement in an issue we might come to later to regret is arguable. But you can't, out of one side of your mouth, argue that the people pushing HR822 are "well-meaning" and out of the other side suggest they are foisting a Trojan Horse on gun owners. Perhaps Brown is only guilty of using poor metaphors here, but Trojan Horse has implications as to the intentions of the people offering the gift.
Just today, Republicans helped pass an amendment that orders the Feds to investigate the "safety" of mail-in CCW permits from states like Florida, Utah and New Hampshire.
This is a common tactic to pick up more votes. Some softy gets an idea in his head that he'd like to have more information about something or another and you get things like this. I would also point out that our opponents have done quite a bit of this, where they commission studies that are sent to committees intended to reach a fore drawn conclusion. Turnabout is fair play, and that's all I have to say about this particular amendment.
So-called "pro-gun" Republicans even KILLED an amendment that would have allowed permit holders to defend themselves in the District of Columbia, one of the most dangerous cities in the country.
A more aggressive bill was tried before and died in the Senate. We're going to want something that can pass. Every time you tweak a bill, you're either going to pick up or lose votes. Passing legislation is about holding on to a majority needed to get a bill passed, and that's going to mean HR822 needs to be less aggressive than its predecessors. You can always go back later and tweak with a separate bill when everyone realizes the sky hasn't fallen. This isn't about the Republicans on the committee being anti-gun, it's about keeping the bill in a form that's more likely to see passage.
Brown continues on to speak of the many anti-gun amendments which were defeated in Committee markup, which was entirely predictable. He suggests that the Senate has a whole host of anti-gun Amendments they would like to tack on as well, so that's where the bill is going to certainly become anti-gun. I think that's unlikely, but it's worth noting that the Senate can't pass a bill unilaterally. If we can't get a clean bill out of the Senate, the bill can die right there.
His letter ends with a plea to call judiciary members and get them to oppose HR822, which puts Dudley on the same side as groups such as MAIG, the Brady Campaign, CSGV, and the Violence Policy Center, as well as big city police chiefs, and your usual Joyce funded puppets.
As I said, I don't bemoan anyone who's nervous about or opposed to federal intervention in this area. Before Heller and McDonald, and before we had a court strategy, I agreed with those folks. But Brown is way out of line here with his rhetoric and tactics, which have gone way beyond the line of good faith disagreement. He has joined with our opponents in word and in deed.