It seems that the Left in Pennsylvania has decided that no one is allowed to discuss anything on Labor Day that doesn't celebrate unions or involve planning for an outright class war on Republicans & the upper classes. This came out in force yesterday when Congressman Charlie Dent posted about his opportunity to meet with a local Marine who came home from Afghanistan and the Congressman was attacked for celebrating his safe return. (Click the image to enlarge.)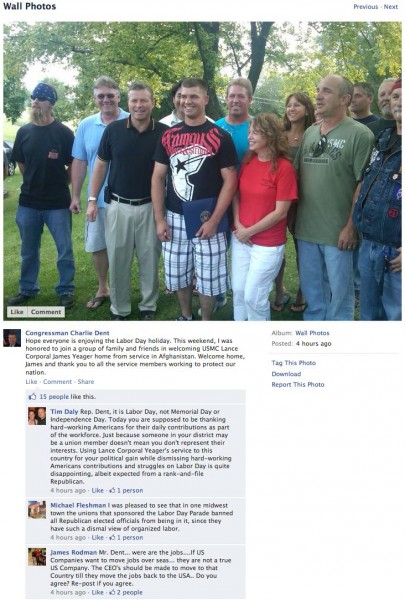 My first thought, "Why is Joe Hackett hating on our military?" Of course, it's another Tim Daly. One that you might assume is a hardworking blue collar union guy based on his rhetoric. You'd be oh-so-wrong.
Tim Daly owns an advertising firm and lives in Yardley, Pennsylvania, a town with a median family income of more than $103,000 and homes with a median price of about $333,000 as of 2009. Yardley is a nice little place, so good for Tim Daly for getting his graduate degree and settling in a comfortable, fairly wealthy suburb of Philadelphia. In addition to not being an oppressed union worker, Daly is also decidedly not a constituent of Congressman Dent. (I'm not a constituent. I just follow him to see what he's saying on issues I care about, not to pick fights about whether we are allowed to honor members of the military.)
Oh, but it gets better. Mr. Daly has some interesting allies that come to back up his attacks on the Congressman for honoring those who serve our country.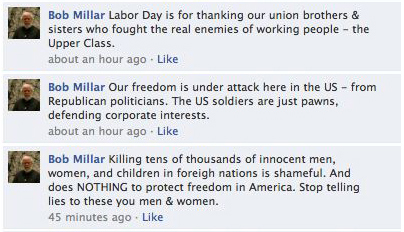 Wow. All of this hate just because Congressman Dent thought it would be great to celebrate with a local service member. But, Mr. Millar's rants are apparently familiar to those in the Reading area.
According to The Pennsylvania Progressive, Millar, a self-proclaimed Marxist, has a reputation for using "irrational, intellectually dishonest logic" and was described this way in a debate last year:
He makes these leaps of logic with no foundation and impugns the character of others with no basis in fact. He then further impugned his own character by constantly interrupting Brown violating the rules of the debate and calling him a liar.
It shouldn't be any surprise. According to the reviews on Rate My Professor, his students report that he regularly holds it against them in their grades if one disagrees with him and he spends his class time ranting about politics instead of teaching. One of the more positive recent reviews that says he is "average" notes that he will "inspire you to think like a communist."
It's absolutely disturbing that these people take pride in announcing that military members who put their lives on the line are not worth even acknowledging on a day they perceive to be about celebrating the downfall of the "upper class." As Wyatt said on Twitter last night: "This Labor Day, remember those who don't get the day off: our armed forces, police officers, and firefighters."