Joan Peterson is currently in hysterics over the fact that a man running for Congress in the 8th Congressional District of Arizona, which also happens to be Gabby Gifford's district, is featuring a picture of his service where he is carrying a rifle: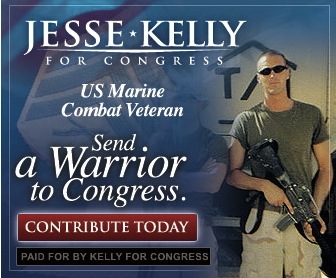 Says Ms. Peterson:
Why does he need to run an ad with a poster showing himself with an assault weapon and calling himself a "Warrior"? Is this some sort of code to the extreme conservatives and gun rights activists?
I've largely grown bored with our favorite Brady Board member, but every once in a while I run across something so completely nuts I just have no choice but to share. I will admit to not getting an updated secret decoder ring from the NRA in some time, but going out on a limb here I am fairly certain there is no code.
What we have before us is a politician who is a United States Marine who served in Iraq. He would like potential voters to know about his service, so he puts pictures up of him soldiering on his campaign material. I know this is a shocking revelation, but soldiering generally involves carrying a rifle. Not only rifles, but real, honest to goodness select-fire full-auto capable assault rifles. Soldiers also, fairly commonly, refer to themselves as "warriors." I know that's hard to believe, but trust me, it's true.
Surely the Brady Campaign is not now embracing the position that we ought to disarm our military? Surely they do not take the position that there is something wrong with Marines being proud of their service, or having to hide their service, because one of the tools they use to protect freedom is a firearm?
I show this only to point out how far outside the mainstream the leadership of the anti-gun movement truly is. Soldiers carrying guns… well, that's just icky.