But whether I've met you or not, I want to know your story.  The vast majority of my readers are firearms enthusiasts of some stripe.  How did that happen?  How did you become gunnies?
I was into shooting, pretty much only air guns and smallbore, from the time I was about 12 and 13 up until maybe 15. My Uncle and cousins moved to a more rural area where you could safely do that. Now it's been built up and you'd get a SWAT team called on you for doing some of the shit we did, but we got away with it in the late 80s.
I completely lost touch with the hobby from 16 through to my mid-20s, which is probably fairly common for most young men. I did not get back into shooting until my friend Jason (same guy who is doing the 3D magazine project) took me out one time, and I remembered I once really enjoyed this.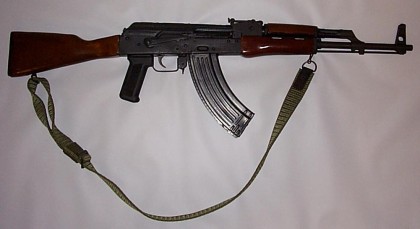 A few months later he informed me there was a sale on Romanian AK-47 clones on sale at a local gun store near him. I was surprised this was legal, since I was aware of the Assault Weapons Ban, so I started researching, and discovered what it actually banned. I went up there and bought one. You can see it in the picture not to long after it was purchased.
I did not buy it for anything other than a novelty. In truth, I got it because I was appalled at the Assault Weapons Ban when it passed, and was even more appalled at it after I understood what it was really about. I short, I wanted it because a certain types of people who can't mind their own damned business frowned on the idea of me having one, and I did not aim to please them. Turned out, however, I enjoyed shooting it. My next purchase, after that, was a .22LR pistol, a Ruger Mk.II, which I loved to shoot, and it was all downhill from there.
I purchased my first gun in 2000, after the Y2K thing turned out to be nothing. I'm guessing that was the reason for the sale. I did not grow up in a house with guns. My mother never would have allowed it. Whether she would have allowed me to keep one in our house as an adult, I don't know. She died when I was 20 and did not have a say in the matter. My dad was fine with it. I moved into an apartment later that year, but I was still living at home when I bought my first firearm.
I did not get a License to Carry a firearm until 2002. The first firearm I carried in public was a Bersa Thunder .380. I took it on a trip to my sister's the day I got the license just because I could. I felt very awkward, and thought everyone could see it. By that time I knew how to be safe with a pistol, as I had been learning for two years. If I knew then what I know now, I would have sought more formal training with reputable instructors in those two years than I did.
I did not get into competitive shooting until 2007. My only classification competitively is in NRA Air Pistol Indoor/Outdoor, and IHMSA. I have never been classified in IPSC or IDPA, and have never shot a formal match in either sport. This is not because I wouldn't like to, but because the clubs in my area either don't allow such shooting, or if they do don't have formally sanctioned matches by a  Shooting Sports governing body. Ironically the best place for me to shoot those kinds of matches is over at Central Jersey Rifle and Pistol, who run a lot of great matches, but taking a gun into New Jersey is not a wise move. Just ask Brian Aitken.
Finally, I got into gun blogging to impress a girl who said I should do it. She's now my co-blogger, among other things :) I kept gun blogging because I built an audience, which surprised the hell out of me. Through this I've gotten to meet some terrific people. I don't have any current plans to stop. What's next for me in this issue? I'd like to find more trigger time competitively, and try some practical shooting sports. I've gotten out of the swing, so to speak, because of my schedule. Made the IHMSA match this weekend. It was fun. Every once in a while you need a reminder that shooting is more fun than working.
So that's my story. What's yours?