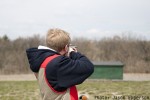 As I'm preparing for a planning meeting for our Friends of NRA banquet, I'm going through the notes I took during the NRA board meeting on programs that often benefit from those fundraising grants. If you're a fan of our dinner, you'll see a few of the facts and figures appear on our Facebook page in coming months. Still, I thought I would share some of them here with everyone.
There are more than 75,000 NRA-certified instructors.
There's a new program being launched to specifically target & recruit female instructors. Â (Yay! That's me!) When it comes to teaching women, more than 75 grants have been awarded from Eastern Pennsylvania Friends dinners to run Women on Target programs.
There have been 57 Youth Hunter Education Challenge events this year.
This year, there have been more than 400 Boy Scout instructors trained. In Eastern Pennsylvania, the Boy Scouts have received 101 grants for shooting programs that total nearly $190,000 since the Friends program was launched.
NRA has run more than 20,000 youth through their various programs in the last year. For our region, various youth programs have benefited to the tune of $1.3 million through the Friends program since 1992.
In two years, 50 ranges have been built with the help of NRA programs. With the assistance of grants from our area, more than 450 grants have been given to clubs & ranges for improvements and developments through NRA Foundation money. The total assistance since the Friends program launched? More than $1.1 million for those facilities.