Apparently forcing your kids to eat their peas is grounds, by at least one gun control advocate, and Coalition to Stop Gun Violence, for getting the government involved. Off on a blog I hadn't previously heard of, a father writes of trying to get his son to eat:
He's being a very finicky eater, lately.  Doesn't want to eat squat.  We force him to at least taste (not necessarily eat) one of each item on his plate.  Tonight was different.  My wife worked pretty hard making some chicken and rice with mixed veggies mixed in.  I cut a small piece of chicken and shoved it into his mouth.  Spit it back out so I pushed it back in.  After a dozen times, he got a super sad, big pouty lip on his face, and started chewing.  I will admit it, I was doggone mad.  He swallowed it a few seconds later.  Starting with that, our new rule with him eating is that he WILL eat at least one single bite of each item on his plate.  He won't have to eat the entire thing, but he WILL take a bite, chew, and swallow one of each.
I can't count how many times my mother made my eat my dinner when I didn't want to eat. It's a game kids play with their parents, and I was certainly no exception. Some say it's not great parenting to force your kids to eat, and maybe they have a point that they'll grow up having been conditioned to overeat. But find me a picky eater in adulthood, and I'll find you a parent that didn't make their kids try a lot of different food. Now that I am an adult, and have learned to appreciate a wide variety of cuisine, I'm thankful that my mom made me eat stuff I didn't want to when I was a kid.
But according to some of our fascist opponents, that's grounds for having the government come and take your kids: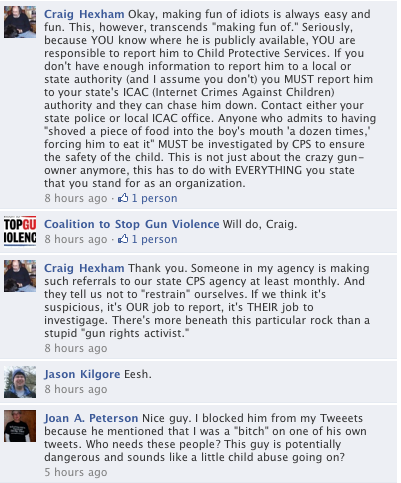 I'm going to be blunt, but just who the hell do you people think you are? This really crosses the line well and beyond a mere debate over the role of guns in society. These people really need to learn to mind their own goddamned business. I hate using language like that on Good Friday, but I'm having a difficult time picking my jaw off the floor at the gall of these people.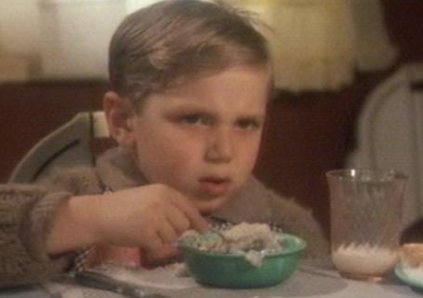 UPDATE: More anti-gun fascists who think Mr. Tango is holding his gun to the kid's head:

We must stop this cycle of forcing kids to eat their peas! Or else kids will become obese because of parents threatening to shoot them with guns if they don't eat! Do these people give two seconds of thought to what they are saying?
I'm sorry @CSGV. This game isn't going to work out for you. Your people are far far more outside the mainstream than ours are.