Bitter was in an accident on the way home from dropping me off at work (I left my car there for the weekend. Long story). She's fine, but this will be the second tailgate we've replaced on this vehicle: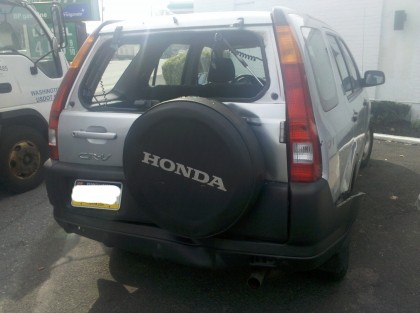 Unfortunately, my coworkers and I have to give a very important, potentially company saving presentation today, and so I can't exactly just go home. But I plan to as soon as it's all over so we can get the car into a shop and get the repair process started. I guess we're also going to need to rent a car too.
BTW, what a strange world we live in when I can get a live pictorial update from the accident scene. Apparently someone switched lanes without checking, causing Bitter to slam on her brakes to avoid hitting him, and in the process a truck hit her from behind. Truck is at fault for following too closely, but the cop said the trucks insurance will probably blame the guy who switched lanes without checking. I don't care who's to blame as long as someone else pays for the damage.
UPDATE: I have taped up the window, and stuffed as much plastic material into the area around the broken door seal as I could. Hopefully it'll keep the majority of the water out of the interior if it rains. Seems she was hit by a fish truck, which is kind of ironic since she was on her way to stock up on fish for our freezer. I should call the fish company and tell them I won't sue if they send me some.