Tasty Baking Company, which makes Tastykakes, is in serious financial trouble. They essentially face going out of business within the next few months, largely due to their management's poor decision to stay in Philadelphia, and build a "green" bakery, which has not worked out very well for the company, even with a massive infusion of my tax dollars to save green jobs or some crap like that.
Just about every store around here has been having specials on Tastykakes, so we've been buying every once in a while. If my tax dollars are going to subsidize them, I might as well eat them. First thing I noticed they are cutting corners on quality control from when I was a kid. A little defect here, and little defect there, I can deal with. No longer. Today was the last straw.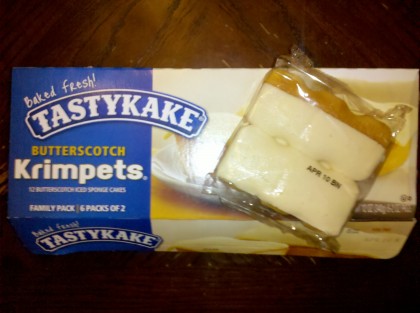 For those of you who grew up or have lived in the Philadelphia area any length of time, you will be able to relate to my extreme angst that Tasty Baking Company sold me a Butterscotch Krimpet with one of the Krimpet's only partially covered with butterscotch. Anyone growing up having to split a package of Krimpets with their sibling understands the kind of war this will bring about. Villages have been burned over less. We need a UN resolution that "authorizes all necessary means" to ensure this won't happen again. Seriously Tasty Baking, if you're going to take my tax dollars, don't you dare short me on butterscotch!