Oct 20, 2010
I just can't not look, even though I know I'd be better off just getting to my destination faster. Despite my best efforts to not pay any more attention, Cemetery's title was pretty much my exact quote this morning when I saw this over at our favorite Brady Board member's blog. I will reproduce the portion of the comment here in case it disappears into the pool of Reasoned Discourse:

So here are some examples of hand grenades, which are being smuggled into Mexico as we speak, according to Brady Campaign Board members: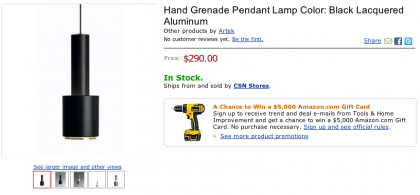 They are even offering, the horror, a chance to win a pistol with it too I guess, and in the colors Bloomberg hates. Surely that will also end up fueling violence in Mexico. And we all know what every Mexican drug dealer wants under his tree at Christmas time…. just to make sure your kids know who's boss, and stuff. I had no idea that Amazon was such a big time supplier! Wait, wait, how about this one, "Jose was such a great guy when we had parties down at the drug cartel office, until he bought one of these. It took the janitor three hours to clean up the mess!"
Surely Joan Peterson has at least enough ability to tell truth from falsity to know the difference between a real grenade and a lamp shaped like one? Or a cigarette lighter? Paperweight? Or an air device that just sprays plastic beads everywhere? I have to believe the answer is yes, because if the answer is no, this is more an issue in distinguishing reality from fantasy rather than truth from falsity. In this realm, I'm a real Airline Captain, because I'm going to go home tonight and hop on the the X-plane flight server and go somewhere in my very own Boeing 737. So just call me Captain Sebastian from now on. Do I get a barrel of rum? Who wants to go to Bermuda? Wait, Airline Captains can't drink. Someone call the FAA and report me immediately.
Sorry folks, this just has me in stitches. I usually try to keep it classy, but sometimes you just have to laugh at your opponents. Before I believed there was value in maintaining a dialog with the other side. Now I am absolutely sure there is value in it!
UPDATE: Seems now she's suggesting they ought to be illegal because you could take a deactivated grenade and make it live again. Does she also believe in prohibiting bottles because I could fill one with gasoline, stick a rag in it, and make a molotov cocktail? Does she favor banning iron pipes?
As soon as you're dealing with explosives, you're probably already breaking existing law. Definitely if you put it in something meant to fragment. Inert grenades are hunks of metal lady! That's all they are. There's no explosive, fuse or detonator in them.
And this is who we're told should be making public policy? Please. I'm really curious to know what magical properties inert hunks of metal have in Joan Peterson's mind.
18 Responses to "Sorry, It's Like a Bad Accident on the Turnpike"